Quicknote South-South exchanges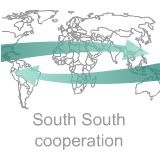 More news has arrived on the memoranda of understanding signed recently between the governments of the Philippines and China on building ethanol plants in the island state (
earlier post
).
As an interesting
example
of South-South exchanges in the field of biofuels, China's state-supported joint ventures with Philippine counterparts will rely entirely on local labor and locally sourced equipment for the construction and operation of the plants.
China CAMC Engineering Limited, B.M. SB Integrated Biofuels Company, and Negros Southern Integrated Biofuels Company will have the final contract in December 2006 to be signed by representatives of both parties when the Philippines Bioethanol Bill is expected to be approved by Congress and the Office of the President.
The concerned companies signed the Memorandum of Agreement in the presence of President Arroyo as part of her state visit in China directed at strengthening the trade relations between the two countries. The two ethanol plants will cost US$20 million each. Even though the Chinese companies expressed interest to source labor, machinery and equipment from China, they have now committed to tap the local work force and materials instead.
The Chinese investments are a boost to the Negros region - one of the Philippines' poorest - where local farmers will grow the feedstocks, mainly sugarcane. China intends to import the ethanol. The economic giant is starting to diversify its portfolio of biofuel production units, by investing in Latin America, Africa and South East Asia [entry ends here].
ethanol :: biomass :: bioenergy :: biofuels :: energy :: sustainability :: China :: Philippines :: South-South ::