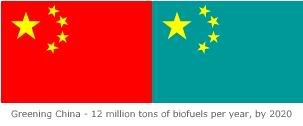 Earlier we
reported
about new elements in China's ongoing bioenergy policy development, and today the Chinese government has shed more light on them. The
National Development and Reform Commission
(NDRC)
announced
that the government has issued a package of policies, including risk reserves, subsidies and tax breaks, to encourage the development of the country's nascent bioenergy industry. The NDRC is the planning body that crafts China's Five Year Plans. Currently, it is working on the 11th edition.
Under the new policies, bioenergy enterprises should set up risk reserves, which will be used to offset their losses when the oil price is low. When the oil price is low for a sustained period, a government subsidy regime will be triggered to cover the losses of enterprises.
Note: this mechanism comes close to the 'contingency tax' proposed by Indian-American venture capitalist Vinod Khosla, a major biofuel investor. In a
white paper
[*.doc] from his hand, he wrote that such a tax is needed to deter deliberate and provocative oil price-cutting by the oil industry, which would destroy biofuel investments. It would come into effect at a pre-determined level – say, $40 per barrel. The tax would in effect set a floor price below which oil could not be sold, for any oil sold at lower than the floor level would have the tax added to it. The scheme would act as a windfall tax in reverse.
The Chinese government will also provide subsidies to developers of raw material supply bases for the bioenergy and bioproducts industries, particularly those using land that is currently classified as 'non-arable'. Subsidies will also be available to model projects that are resulting in significant technological innovations.
The bioenergy industry is seen as being of national importance to China's environmental protection, rural development, in addition to being a new source of growth for the economy, an NDRC official said. After years of trials in selected provinces, the government has begun pouring huge investment into the sector. Contrary to what many in the West think, the People's Republic is still very much an agrarian society, with more than 50% of all Chinese people still being employed in the agricultural sector today. In this context, it is not surprising to read that a single biofuel mega-project is projected to lift 1.1 million farmers out of poverty:
ethanol
::
biodiesel
::
biomass
::
bioenergy
::
biofuels
::
energy
::
sustainability
::
rural development
::
policies
::
subsidies
::
China
::

The country produced 1.02 million tons of bioethanol from corn and other raw materials in 2005. The ethanol is added to petrol at a ratio of 1:10 for use in automobiles. The government estimates that by 2010, gasoline with ethanol mixed in will account for half of China's total petrol consumption.

Large firms, such as the China National Petroleum Corporation (CNPC) and the China National Cereals, Oils and Foodstuffs Corp (COFCO), have announced ambitious plans for bioenergy investments.

CNPC has signed an agreement with the government of Sichuan Province in southwest China to develop facilities to produce 600,000 tons of automotive-grade ethanol from sweet potatoes each year and 100,000 tons bio-diesel made from the seeds of the jatropha curcas tree.

COFCO said in October it would invest one billion yuan (126 million U.S. dollars) to build a major ethanol plant in Guangxi region, also in southwest China. The plant, with a capacity of 400,000 tons, will lift 1.1 million farmers out of poverty by growing cassava as the raw material for the plant, said Yue Guojun, head of COFCO's biochemical and bioenergy division.

China's new policies were jointly issued by the NDRC, the ministries of finance and agriculture, the State Administration of Taxation, the State Forestry Administration.