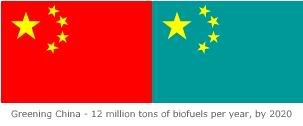 The Chinese government has an ambitious biofuels agenda, aiming to produce 12 million tonnes of biodiesel and ethanol per year by 2020 (
earlier look at China's biofuels program
). In order to do so it is investing in land, labor and biotechnology, at home and
abroad
. The country's biofuels intentions have been taken up in China's 11th Five-Year Plan (2006-2010) which calls for 'sustainable development', reduction of urban pollution, and reducing dependence on foreign oil - all by investing in bioenergy. Gradually, the People's Republic is refining its biofuels policy. One of the instruments aims to guarantee that investments in the sector are secured against fluctuations in oil prices (
earlier post
).
Now China's largest oil and gas producer, China National Petroleum Corp (CNPC),
unveiled
a clean energy project in Sichuan Province that fits into the country's biofuels ambitions. The company said it aims to produce 100,000 metric tons of biodiesel and 600,000 tons of ethanol.
CNPC inked a deal with the Sichuan provincial government to set up the biofuel base in Western China, it said in a statement. The project is based on biofuel technology co-operation between CNPC and four global energy companies. The oil firm did not name the four partners, only stating the project is designed to bridge the gap between energy demand and supply in China and make Sichuan a role model in clean energy production and consumption.
ethanol :: biodiesel :: biomass :: bioenergy :: biofuels :: energy :: sustainability :: oil :: energy security :: CNPC :: China ::

CNPC is making the move to invest in the future and relieve pressure on China's tightened energy supply, said a senior analyst from the National Development and Reform Commission (NDRC), China's top economic planner.

"It is a wise move for oil giants like CNPC and Sinopec to gear up preparation for future business development by investing in renewable energy such as bio-fuel," the expert, who went by the name Su, said.

Su pointed out that at the present stage, the development of bio-diesel is still far from profitable, given hefty costs and technological complexity.

"Also, capacity cannot be raised substantially in the short term, because of the lack of raw material," Su added.