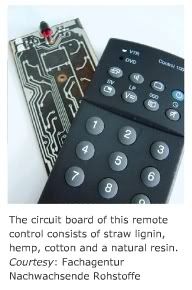 Yesterday we had a
look
at how Finnish researchers succeeded in developing a printable, biodegradable biofuel cell that can power micro-tags. Today, news comes in from an interesting
project
in Germany, where engineers succeeded in creating printed circuit boards made entirely from biomass. The component was tested in a TV remote control. We focus on this kind of developments because they usher in an era of beneficial waste, cradle-to-cradle design, and post-petroleum high-tech innovation.
Electronic components used in computers, televisions, micro-wave ovens, iPods, cell phones and a whole series of other household, office and industrial products, have become a pollution and waste problem of vast proportions. Vast piles of "e-waste" are dumped in the third world where an army of poor and poisoned (child-)laborers "recycles" them. 70% of Europe and America's used computers ends up in China. There, children and poor slum-dwellers work unprotected with dangerous chemicals to recycle the components, leading to a health problem most of us don't want to know about. (See this
overview
of the current situation and of initiatives aimed at changing it.)
Even though projects aimed at "recycling" this electronic waste in a cleaner way are no doubt well intentioned, the future lies elsewhere. What if all these components were to be made entirely from biodegradable materials? What if throwing away e-waste would be a good thing to do because the components act as fertilizer for food, biomass and energy crops?
German scientists are working along the lines of this philosophy. They are making 100% biodegradable, printable electronic components out of lignin, plant fibres and natural resins. Soon their prototypes will be brought to mass production. The circuit boards consist of a matrix of straw lignin with short hemp fibres and cotton weave for reinforcement. The adhesive is a natural resin and expandable graphite acts as a flame-retardant. The need for halogenized flame protection media has been eliminated:
biomass :: bioenergy :: biofuels :: energy :: sustainability :: electronic waste :: biodegradable :: bioeconomy :: Germany ::

The assembly of the components is carried out using lead-free solder allowing electronic modules to be manufactured that are in conformity with the RoHS ("Restriction of Hazardous Substances") EU guidelines.

The material consists 100 per cent of renewable raw materials. The thermoplastic deformable substance used is called "Arborform", a natural resin. In order to test their suitability for practice, the double-sided contact circuit boards in the project were successfully built into a remote control for a television set. However, it was shown that the production process required further optimizing. Especially the temperature-pressure course during production needs reworking for larger installations. The researchers assume that they will overcome the present problems of the moisture absorbance and the insufficient copper adhesion.

The project is a collaboration effort of the German Fachagentur Nachwachsende Rohstoffe (Renewable Energy & Materials Agency), Tecnaro, Andus Electronic, Ingenieurbüro KEW Konzeptentwicklung, the Fraunhofer Institut's department for Zuverlässigkeit und Mikrointegration (Reliability and Micro-integration) and Loewe.