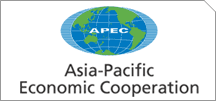 The
Asia-Pacific Economic Cooperation
(APEC) summit ended today with the 'Hanoi Declaration',
presented
at the 14th APEC Economic Leaders' Meeting where the heads of state of 21 Asian and Pacific countries convened. The over-arching theme of the Hanoi Declaration is
"Towards One Dynamic Community for Sustainable Development and Prosperity"
[*.pdf]. The APEC recognizes that Asian economies are growing at a rate unprecedented in human history, and that, in order to cope with such dramatic changes strong forms of multilateral cooperation and regional economic integration are needed.
Given record economic growth and the threat of climate change, energy security and global warming were high on the agenda of the APEC Summit:
We reiterated that energy security is critical for sustainable economic development.

Noting the challenges of meeting rapidly growing energy demands while minimizing

environmental effects, we urged member economies to continue to work to facilitate

energy investments and cross-border energy trade, to develop new and renewable

energy sources and technologies to ensure cleaner use of fossil fuels, to boost

energy efficiency and conservation, to enhance emergency preparedness and to

better protect critical energy infrastructure. We commended the launch of the

APEC Biofuels Task Force.

- Hanoi Declaration issued at the 14th APEC Economic Leaders' Meeting, November 20th, 2006.
This taskforce will build on the already existing APEC
Task Force on Biofuels
headed by Austrialia, which was established in 2005 within the
APEC Energy Working Group
. As soon as more details on the new 'Biofuels Task Force' emerge, we will report on them.
Earlier, Australia's Deputy Prime Minister, Mark Vaile, had
announced
that the role biofuels like ethanol and biodiesel could play in diversifying the fuel mix and addressing climate change was firmly on the Asia-Pacific Economic Cooperation agenda. Mr Vaile said the Australian Government was taking a leadership role on climate change through the Asia-Pacific Economic Cooperation (APEC) forum.
Australia's Prime Minister said he was going to use the APEC leaders' meeting in Hanoi this week to promote energy security, cleaner energy and measures to address climate change. Mr Vaile: "We have therefore been working to ensure that biofuels like ethanol and biodiesel are considered part of the solution for APEC countries looking to tackle environmental and energy security issues. APEC Energy Ministers, including my colleague Ian Macfarlane, are due to meet in Darwin on 29 May 2007 to discuss the role of biofuels in the context of high world oil prices and the need to reduce greenhouse gas emissions and pollution from transport fuels."
Doha Statement
Expressing their strong preferences for a timely conclusion of the Doha Development Agenda round of WTO negotiations with an ambitious and overall balanced outcome, Leaders issued a separate
statement
[*.pdf] on this issue that includes practical measures to resume the negotiations:
ethanol :: biodiesel :: biomass :: bioenergy :: biofuels :: energy :: sustainability :: trade :: Doha :: Asia :: Pacific :: APEC ::

APEC countries reaffirm their collective and individual commitments to concluding an ambitious and balanced WTO Doha agreement. To meet this goal, there is an urgent need to break the current deadlock and to put the negotiations back on a path towards a timely conclusion. A successful Doha Round will contribute to global economic growth and to the alleviation of poverty. It must do so by creating new trade flows and by effectively addressing the development dimension.

The APEC economies say they are determined to resume without further delay negotiations to achieve a balanced and ambitious outcome that works for all WTO Members. Although agriculture remains the key to resolving the current impasse, they express the need to build an overall package covering market access for industrial goods and services, rules and trade facilitation.

The countries say they are ready to break the current deadlock and are committed to moving beyond their current positions in key areas of the Round. To them it means making deeper reductions in trade distorting farm support by major players [US/EU], creating new market access in agriculture, making real cuts in industrial tariffs, and establishing new openings in services trade, while dealing seriously with Members' concerns and sensitivities. All APEC Members are ready to lead, but others also must signal their readiness and resolve, so the statement goes.

Furthermore, in its Hanoi Action Plan to Implement the Busan Roadmap towards the Bogor Goals [*.pdf], the APEC outlines a whole series of strategies to strengthen regional and global trade, refine and enhance investment climates and to support technological cooperation.