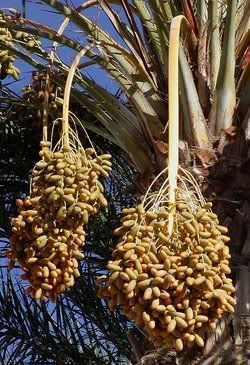 To each his own biofuel feedstock - that is what Nakheel, an Algerian biotech company must have thought when it
decided
[*French] to research and invest in biomethanol production using dates from the abundantly growing palm trees in North Africa and the Near East as a raw material. The Alger-based company made the announcement of its project at the Journées Scientifiques et Techniques de Sonatrach (Sonatrach is Algeria's state-owned oil and gas company, Africa's largest).
Nakheel will use non-edible waste fruits from the large date industry in the region. According to the FAO, the date-palm (
Phoenix dactylifera
) is grown on roughly a million hectares in the Near East and North Africa, yielding an average of 5.8 tonnes of dates per hectare. In 2005, production of the sweet fruits in the region stood at 5.7 million tonnes, out of a world production of 6.7 million tonnes (
FAOstat
). Some 20% of all dates produced are not suitable for the market, resulting in a large waste stream of sugar rich biomass.
The date palm is a drought tolerant tree that has been cultivated for thousands of years and which is used for many different purposes: its woody biomass is used as a traditional building material and for energy, its leaves are a cellulose pulp source, and the fruit's kernels are used to make high value oils and traditional medicines.
Fighting desertification
Nakheel's project is built on synergies with other initiatives surrounding the date palm. The Algerian government has a large program aimed at fighting desertification by planting palms at the fringes of the Saharian Atlas mountain range. Nakheel participates by developing new highly drought-tolerant cultivars that will be used in "intensive plantations" which make use of the latest micro-irrigation technologies.
In 2007, an Algerian public-private venture will start establishing the first series of plantations alongside a desert railway that stretches from the West to the East of the country:
biomass :: bioenergy :: biofuels :: energy :: sustainability :: dates :: date palm :: desertification :: biomethanol :: Algeria ::

According to the local Algerian press, a Nakheel spokesperson was quoted as saying that "the company wants to contribute to the production of renewable energies by initiating a real industry based on the production of biomethanol as a transport fuel, based on dates." The same press reports that the company has invested 5 years of research into the feasibility and the technology, and will commence building its first biomethanol refinery in 2007.

Algeria is an OPEC member and its fossil fuels sector is the backbone of its economy economy, accounting for roughly 60% of budget revenues, 30% of GDP, and over 95% of export earnings. The country ranks 14th in Petroleum reserves, containing 11.8 billion barrels of proven oil reserves and 160 trillion cubic feet of proven natural gas reserves, the 8th largest in the world.