Quicknote climate change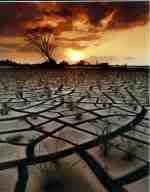 Today the former chief economist of the World Bank, Sir Nicholas Stern, published his widely-discussed, comprehensive report on the global economics of climate change. All major news outlets are extensively
covering
the findings, which show the dramatic costs of inaction, the relatively low costs of mitigation and the urgency of the matter.
This major
report
is one of the first written by an authoritative and impartial economist. Instead of repeating the
general conclusions
[*.pdf], over the coming days we would like to focus on the social and economic implications of climate change for Sub-Saharan Africa.
We will be looking at the effects on agricultural production, the increasing risk of climate related disasters (flooding, droughts, storms), the increase in disease burden, at the cost estimates, potential mitigation strategies and effects of inaction as they relate to Sub-Saharan Africa.
In particular, we will focus on Sir Stern's
chapter on land-use change and deforestation in the tropics
[*.pdf], as it concerns our organisation directly. Earlier, we
reported
on the World Bank's new study showing that a system of 'forest carbon credits' aimed at reducing deforestation might be feasible under specific circumstances. The Stern Review adds other possible strategies which we will highlight over the coming days [entry ends here].
bioenergy :: biofuels :: energy :: sustainability :: climate change :: CO2 :: deforestation :: agriculture :: Africa ::