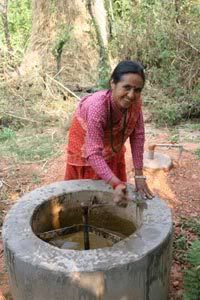 In terms of scientific development, Nepal ranks low. Its science budget is just 60 million rupees (US$800,000), or 0.08 per cent of the total national budget. Yet, despite poverty, poor governance and ten years of insurgency, a few initiatives in Nepal's energy sector are showing how thinking small can bring big results.
While Nepal's planned 'mega' dam projects have stalled, their 'micro' counterparts have been successful, with some financing local development. Since 1992, a small non-governmental organisation has improved rural livelihoods while reducing greenhouse gas emissions by using cattle dung and household waste to create clean fuel.
Many developing countries face the conundrum of possessing natural resources that could potentially supply large amounts of energy, but lacking the funds, resources and infrastructure to exploit them.
With Dutch and German support, Nepal's
Biogas Sector Partnership
(BSP) set about tapping the energy stored in cattle dung and household waste. The BSP builds and installs family-size biogas plants that use bacteria to generate methane gas from cattle dung in underground digesters (picture). The gas is burnt in kitchen stoves instead of wood or kerosene. It produces less carbon dioxide, the greenhouse gas most responsible for climate change, than either of these.
Using methane like this means that 400,000 tonnes of firewood and 800,000 litres of kerosene are no longer needed each year, avoiding 600,000 tonnes of greenhouse gases being emitted into the atmosphere, and saving several thousand hectares of forest. Moreover, women and children no longer face the
deadly indoor smoke pollution
caused by burning firewood. Biogas burns far more cleanly.
Since launching, BSP has built 137,000 biogas plants across Nepal. It plans to build 200,000 more in the next five years. Already, Nepal has overtaken India and China in terms of the number of biogas plants per capita thanks to BSP's work. The digesters now satisfy some 10% of Nepal's total energy consumption:
biomass :: bioenergy :: biofuels :: energy :: sustainability :: biogas :: Nepal ::


BSP's main supporter, a Dutch aid organisation called SNV, is now replicating the project in Bangladesh, Cambodia, Vietnam and parts of Africa.

As well as installing biogas plants, the BSP has helped set up 57 private construction companies to build the plants' 'digesters' and stoves, fittings and biogas lamps. Together, they employ 11,000 people and benefit nearly one million Nepalis.

In June 2005, BSP won an Ashden Award for Sustainable Energy for "outstanding achievement in using sustainable energy to improve the quality of life and protecting the environment".

"The award was not just a recognition of the numbers we have achieved," says BSP's Sundar Bajgain. "It is a recognition of our success in using appropriate technology to improve living standards of farmers who have installed biogas and helped save the forests."

The organisation plans to use part of the UK£30,000 (US$53,000) prize to help adapt its digesters to the cooler temperatures of the Mount Everest region.

Prakash Ghimire of BSP says the results of tests conducted at 2,700 meters are promising. By allowing mixed dung slurry to warm up in solar-heated holding areas before it enters the digester and by improving insulation, the temperature inside the plant is high enough to generate gas.

The organisation also hopes to take advantage of the Kyoto Protocol's Clean Development Mechanism (CDM), which allows industrialised countries to invest in projects in developing countries that reduce greenhouse gas emissions in exchange for more emissions credits.

Nepal ratified the Kyoto Protocol on climate change last month, and is already eligible for US$5 million a year in CDM compensation for constructing the biogas plants.