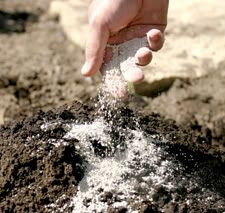 Sub-Saharan African agriculture is known for its very low productivity. A large number of factors is responsible for this, ranging from a lack of knowledge about basic agricultural techniques amongst individual farmers to the non-existence of institutional frameworks for agricultural outreach, a lack of infrastructures which prevent farmers to make a decent income from their land which in turn limits investments in it; even trade barriers play a role (lack of market access which ultimately leads to underinvestment in productivity increases). Recently, the all-important African Fertilizer Summit (
earlier post
) focused on one of those aspects. It concluded that with only very modest changes in fertilizer practises, African agriculture can increase its output considerably. Ultimately, the projections on Africa's high potential for the production of biofuels (
earlier post
) take into account a radical change in fertilizing practises (an overview of which biofuel crops need which kind of fertilizer regimes can be found
here
).
Now Rob White of the International Zinc Association of Southern Africa
focuses
down further, on one particular micronutrient: zinc. White says that without the required high yields and consistency of crop supply, the economics of (South) Africa's nascent biofuels industry will become more challenging. Micronutrient reserves in soil decline owing to monocropping, the planting of higher yielding varieties and the heavy use of fertilisers. Regular micronutrient surveys and amendments of micronutrients, including zinc, will play an important role in the success of the biofuels industry:
ethanol :: biodiesel :: biomass :: bioenergy :: biofuels :: energy :: sustainability :: Africa :: fertilizers :: micronutrients

Although generally recognised for its role in protecting steel against corrosion, zinc plays an important part in the health of every living organism and is an essential element. Zinc deficiency in agricultural soils is common on all continents and constitutes a major problem in many parts of the world because it causes serious inefficiencies in crop production. White says that relatively small amounts of zinc compounds, however, can cure deficiency and last for several years before they need to be repeated. "This treatment is highly cost-effective when the costs of the zinc application and the value of the extra yield are considered," White says.

He adds that, considering that a minimum response of only one ton of cane a hectare is needed to cover the cost of 50 kg of zinc fertilising material, it may be concluded that the application of zinc can be highly profitable where this treatment is needed.

Soil application of zinc fertilisers is by far the most widely used method for zinc fertilisation of crops. Several different types of compounds are used. The most widely used compounds include a wide range of inorganic zinc compounds and synthetic chelates. Zinc sulphate is the most widely used form of zinc addition. However, White says that different plant species respond differently to different chemicals as it is the delivery of usable zinc that can be taken up by the plant that is of importance. He comments that South Africa has a history of zinc to soil addition that may not be optimal and adds that the growth of the biofuels industry may assist in developing best practice.

The key crops for biofuels in South Africa have been identified as maize, soya, sorghum sunflower and sugar cane. "Unfortunately, with the exception of sunflower, where more data is required, all these crops are sensitive to zinc deficiency. "Maize is especially sensitive to zinc deficiency and some of the newer cultivars even more so. "Globally a present problem is that the abilities of some of the new high-yielding maize cultivars to absorb zinc are very poor and thus they are much more sensitive to zinc deficiencies than indigenous cultivars in zinc deficient areas," White says.

Inorganic fertilisers are responsible for much of the growth in the world's agricultural production. In Africa, however, fertiliser consumption is very low – the entire continent uses only 2% to 3% of global supply. There are many reasons for this and some are obvious, but the challenge is to address the situation. "Subsidies for fertiliser additions have been shown to work globally but have been ineffective in Africa," White says.

One suggested route forward is promoting cost-effective partnerships between all people and organisations involved in the process.