Quicknote bioenergy investments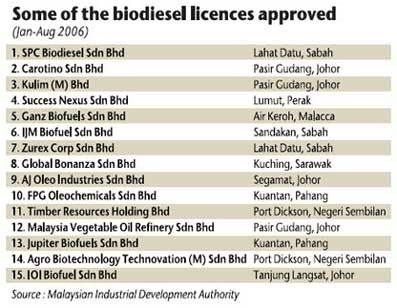 Despite growing criticism against palm oil biodiesel in Europe (
earlier post
), in South East Asia investments in the sector are speeding ahead. A major Japanese oil company and automaker Toyota have recently entered the palm biodiesel industry with the aim of importing the biofuel into Japan (
earlier post
), and the Malaysian government has meanwhile stopped granting licences for new plants because the number of applicants skyrocketed (
earlier post
). One of the companies that received a licence is conglomerate Sime Darby Bhd. It has
announded
plans to build its first palm oil-based biodiesel plant in Johor next year, with an annual capacity of 100,000 tonnes.
While the quantum of investment for the planned plant is not available, it generally costs about RM40 (€8.6/US$11) million to build a 60,000-tonne biodiesel plant. Sources said the group is still mulling over where to site the plant - either in Pasir Gudang or Kempas. "The company has called for biodiesel plant builders to submit their proposals for the tender which closes on November 8 2006," a source said.
With the plan, Sime Darby will join 53 other companies that have been granted approval by the Government this year to turn crude palm oil into biodiesel, known as B100 (100 per cent palm oil-based biodiesel).
The environment-friendly oil is sold to oil firms or retailers for blending with crude oil-derived diesel and used in conventional engines. Companies already exporting biodiesel include Golden Hope Plantations Bhd, Carotino Sdn Bhd, Carotech Bhd and the Federal Land Development Authority (Felda), while those still on the drawing board include Kumpulan Guthrie Bhd [entry ends here].
biodiesel :: biobutanol :: biomass :: bioenergy :: biofuels :: energy :: sustainability :: palm oil :: Malaysia ::