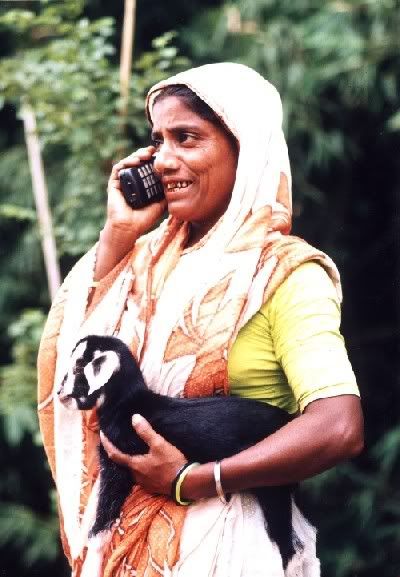 One of the most interesting stories of the past few days has been the announcement by majors from the telecoms industry that they will be using biofuels as energy source to power base stations in order to bring mobile phone coverage to the developing world. Ericsson and the GSM Association (GSMA) stated they had started a pilot project in Nigeria, where only one in fifty people has access to a phone and only one in five has access to electricity.
We think this project illustrates perfectly
why bioenergy in the developing world is so interesting
:
it allows 'marginal' communities in the conceptual 'periphery' to develop independently from 'top-down' decisions at the 'center'

it allows the introduction of crucial services - such as health care, education, communications - that require energy, but that normally reach rural or marginal communities last

it fits into a new energy paradigm in which bottom-up control of local energy resources, decentralisation and local energy independence are key
Shortly after the first announcement of the program in Nigeria, a GSMA executive present at the 3GSM World Congress Asia conference said,they plan to expand the program to India and Bangladesh, where mobile phones for the poor change lives. Symbolically and importantly, GrameenPhone, the initiative launched by Professor Muhammad Yunus, the newest Nobel Peace Prize winner, will participate.

Next week, India's Idea Cellular will announce its partnership in the program, said Ben Soppitt, the GSMA's director of strategic operatives. And more Indian companies could join the program. "We are talking to a number of Indian operators," Soppitt said. And according to Soppitt, talks are under way with Bangladesh's GrameenPhone to use biofuel as well. "We don't have a concrete date for launching of biofuel, but we are working closely with GSMA," said Erik Aas, GrameenPhone's chief executive officer. "You will see this coming up pretty soon":

ethanol :: biodiesel :: biomass :: bioenergy :: biofuels :: energy :: sustainability :: development :: digital divide :: GrameenPhone ::

Ericsson and the GSMA, an industry group composed of mobile operators, are working with operators in developing countries to power cellular base stations using biofuel produced from local agricultural products. The program is funded by the GSMA's Development Fund and started in Nigeria, where operator The MTN Group last week announced it is experimenting with a biofuel-powered base station in Lagos.

Down the road, MTN plans to expand the use of biofuel-powered base stations to rural areas of Nigeria.

In many developing countries, electricity supplies are unreliable, forcing operators to use diesel-powered generators to run their base stations and keep their networks running. Switching to biofuel offers several benefits over diesel, including reducing pollution and supporting local farmers, who produce the pumpkin seeds and palm oil used to make biofuel, Soppitt said.