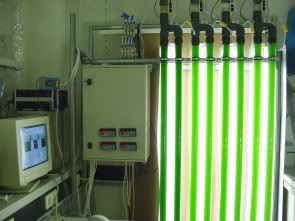 Several companies have issued press releases about breakthroughs in algae biofuel production, these past few years (
an example
). None of them has begun wide-scale production though, and the many problems with costs remain (
earlier post
).
Today, Canadian company Global Green Solutions Inc.
announced
it has the right to earn the exclusive world rights to yet another algae biofuel technology known as
'Vertigro'
from Valcent Products Inc. of El Paso, Texas.
Vertigro is a C02 sequestration system in high-density vertical bioreactors for the mass production of certain algae that consume up to 90% of their weight with C02 using sunlight as the energy source to drive photosynthesis. Approximately 50% of the dry weight of the algae is an oil suitable for biofuel blending with diesel and for other uses. Vertigro is designed as a continuous closed loop that uses little man made energy and nominal water. [
Video of the reactor
- no technical specifications or research results available; picture showing an experimental vertical photobioreactor developed at the University of Kiel, Germany].
Valcent claims that its continuously operating test bed facility demonstrated that yields up to 4,000 barrels of oil per acre (10,000 barrels per hectare), per year, at an estimated cost of US$20 per barrel are achievable on a commercial scale. As a comparison, soybeans typically yield 1.5 barrels/acre (3b/ha) per year at considerably higher cost; palm oil, with highest yield of conventional sources, delivers approximately 15b/acre (35b/ha) per year.
After a demonstration pilot plant, slated for July 2007, is in operation, several production units that may total 1,000 acres may be built which would have the potential of producing approximately 4,000,000 barrels of oil per year with significant carbon dioxide green credits and other commercial products. At that rate of production, Vertigro will sequester approximately 2,700,000 tons C02 per year which will be sold as a green credit within the emerging green credit system within the USA and within the Kyoto Protocols:
biodiesel :: bioenergy :: biofuels :: sustainability :: carbon sequestration :: algae :: photobioreactor ::


Global Green has agreed to fund a demonstration pilot plant at an estimated cost of $2,500,000. The Plant will be built on Valcent's lands located in the El Paso area by mid July of next year and in doing so Global Green will have earned the exclusive world rights for commercialization. On completing the pilot plant, Global Green will have earned a 70% joint venture interest, leaving Valcent with a 30% carried joint venture interest with both parties subject to 4.5% third party royalties. Under the terms of the Joint Venture, Valcent retained the right to carry Global Green for a 30% Joint Venture interest if Valcent elects to produce a model for the consumer markets.

Studies report the world market demand for alternate energy and bio-fuels will grow dramatically. The US Department of Agriculture believes that demand for biodiesel fuels will grow astronomically and account for 200 billion barrels produced by 2010. According to Frost and Sullivan, world leaders in technology research, there is a 25% annualized growth rate for bio-diesel fuels at this time in Europe. The U.S Department of Defense, the largest consumer of fuel in the world, requires 75% of the new vehicles it purchases to be alternate fuel users. In all countries, the drivers are the same: concern for global warming, rising cost of fossil fuels, and a desire to be independent from oil producing nations.

Doug Frater, CEO of Global Green, noted, "We are experiencing significant early interest for Vertigro from power utilities, oil and gas production and petrochemical companies as well as international government institutions. We are looking forward to working with Valcent's scientists during the commercialization proces." Glen Kertz, CEO of Valcent, also commented, "In addition to its obvious commercial advantages, we are gratified to be assisting in reducing greenhouse gas emissions while producing a secure source of energy within the USA. We are also proud to note that Vertigro plants will not be built on existing agricultural lands."