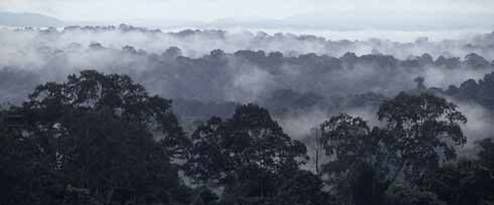 Gabon is one of Africa's most successful economies. As a major oil producer it succeeded in managing its petro-dollars exceptionally well, in contrast to many other African countries where the
black gold is a real curse
, leading to mass corruption, political instability and enormous social inequalities.
Because of this good management, other economic sectors have thrived, and more importantly, Gabon has been able to protect its precious environment. The rainforests of the country constitute one of the world's biodiversity hotspots. A fledgling eco-tourism industry has been built around it and large areas have been designated as natural parks and protected zones. Control mechanisms against illegal logging and poaching seem to be working [see
Gabon's Biodiversity and Protected Areas profile
at the World Resources Institute's Earthtrends website].
All these positive developments are due to Gabon's well managed oil wealth. But the country's petroleum production is facing a rapid decline: whereas today Gabon produces some 265,000 barrels per day, it is estimated that by 2010 this will have halved to approximately 140,000bpd. Obviously, the question then becomes whether the Central African country can keep both its economy growing and its environment intact when the petro-dollars stop flowing in.
Biofuels production in Gabon
would be highly problematic, given its pristine ecosystems. The risk exists that a simplistic economic logic will prevail and that forests are going to be logged to make place for energy crops. However, the current government, and more in particular its Minister for Conservation, Enviroment, Science & Technology, Mme Georgette Koko, is clearly
committed
to protecting this resource. How to do this in a concrete manner, and given the pressure of declining oil revenues, is a very difficult matter.
Earlier we reported about a new idea that is being circulated to help developing countries like Gabon protect their ecosystems and more in particular their tropical rainforests. The concept is known as
'compensated reduction'
and it comes down to putting a concrete monetary value on the resource (rainforests as carbon sinks), which can be translated into a carbon credit that can then be traded on the global carbon market. This approach is interesting, but hardly sufficient:
bioenergy :: biofuels :: energy :: sustainability :: ecoservices :: compensated reduction :: rainforests :: oil depletion :: Gabon ::


The question is whether such a mechanism will ever succeed in stopping illegal deforestation and the conversion of forests into lands for energy crops. The hard economic truth tells us that 'compensated reduction' will fail if a price based on the mere market value for carbon is put on the forests. Energy crops bring in much more immediate cash profits. Moreover, when oil resources decline, prices for energy shoot up, making the case for biofuels even stronger (Gabon will experience this stress very soon within its own market). The price for carbon is not tied in such a straight manner to oil prices.

So what to think of compensated reduction? We have a reference point which shows whether this accounting system results in a compensation strong enough to counter the push towards erasing tropical forests in order to plant energy crops. Recently, scientists calculated the total value of all the eco-services of Boreal forests. These services include carbon capture and storage, water filtration and waste treatment, biodiversity maintenance, pest control, and so on. The total monetary value was estimated to be about US$160 per hectare of forest. Extrapolating this to tropical rainforests is very difficult, but even doubling this value (taking into account eco-tourism, discovery of plant pharmaceuticals, etc...) would still not be enough to compensate farmers whose alternative is to grow energy crops. An oil palm plantation brings between US$500-800 per hectare of net profits to a small farmer. Compensated reduction does not compensate enough.

So countries like Gabon face a very difficult dilemma. Unless oil consumers - that is all of us - start saving energy, or start building a global fund for the future protection of rainforests and biodiversity in the tropics, Gabon will probably not withstand the push towards producing energy crops. Compensated reduction, if merely based on carbon prices, will never tempt farmers to give up planting energy crops.

Another strategy might be found in introducing market barriers based on sustainability criteria for biofuels. The world's largest economies, the EU and the US, can decide to block market access for biofuels that were not produced in a sustainable manner. The problem is that a country like Gabon will look at its own energy needs first, and only if those are satisfied will it think of exporting bioenergy.
On the other hand, the EU/US are already losing power on the global market today, where growth in energy consumption is coming from rapidly emerging economies like China and India. It is highly unlikely to see the latter countries coupling market access for biofuels to stringent sustainability criteria. We are already seeing that China's 'no questions asked' attitude in Africa is extremely utilitarian. 'Soft' concepts like environmental conservation are not on its agenda. This means that a Gabonese farmer may decide to skip the EU/US markets, and simply sell to China or India. No questions asked.

It will be interesting to see how a country like Gabon deals with this dilemma. As its oil production declines, it will have to think very carefully on how to resist the temptation of abandoning its successful conservation policies in favor of biofuels production.



More information:



InfoPlus Gabon: A quand le biocarburant dans les stations d'essence du Gabon? - Sept. 27, 2006

InfoPlus Gabon: Le ministère de l'Environnement veut préserver les écosystèmes - Feb. 10, 2006