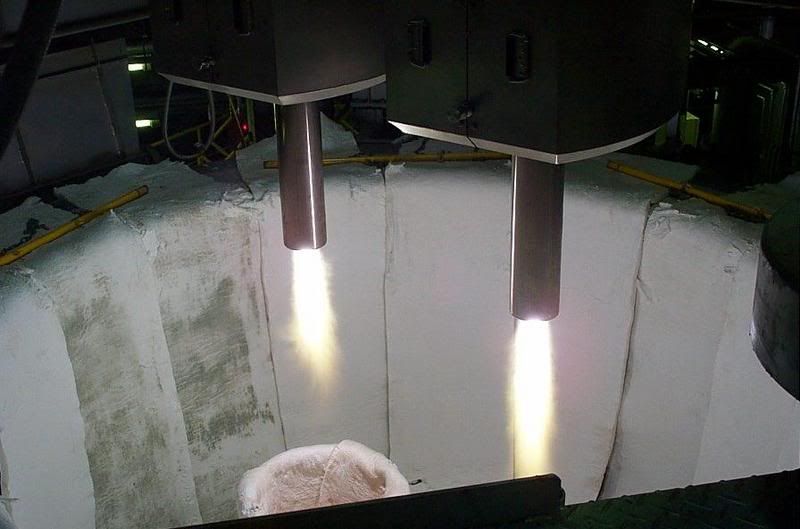 France's nuclear energy agency (CNE) and innovative waste treatment firm Europlasma are collaborating on the production of CO2 neutral synthetic diesel made from the gasification of biomass [
project file
, *.pdf / French].
The research falls under the "GALACSY programme" which was recently certified as a "pole of competitivity" in the PACA region (Provence, Alpes, Côte d'Azur) of southeastern France, in the field of "breakthrough technologies leading to energy that does not emit greenhouse gases".
The Agence Nationale pour la Recherche (the French national research agency, ANR), has awarded funding for module 1 of the program. Module 1 largely comprises a scientific approach to methods of degrading biomass using a thermal plasma. It will provide a useful contribution to a technico-economic evaluation of the biomass-to-liquids production sector.
The breakthrough technology uses any type of biomass feedstock (be it municipal, industrial, agricultural or dedicated) materials and converts it into a syngas rich in carbon, hydrogen and oxygen that is well-suited for the production of a clean diesel fuel. Europlasma's 'plasma torch' [picture] creates a plasma field that reaches temperatures up to 30,000º C. The plasma breaks down the biomass to its core elements with the resulting gas forming the input for a Fischer-Tropsh synthesis into liquid fuels.
The European Commission Green Paper on energy has set targets to substitute 20% of petrol with alternative fuels by 2020. The GALACSY programme - part of the ANR's bioenergy programme under a section called "Gazéification Allothermique de la Ligno-Cellulose Appliquée à la production de bio-Carburant de Synthèse" (allothermic gasification of lignocellulosis applied to synthetic biofuel production) -
hopes to contribute to achieving this goal by producing a synthetic diesel fuel that is perfectly compatible with current engines. This naturally sulphur-free biodiesel will not have to be diluted in a fossil fuel. It will be directly available at the pump using the existing infrastructure for distribution (no modifications will be necessary). When the time comes, this 'second generation' gasification process will mean that the biodiesel can be converted into a source of hydrogen production for future vehicles:
biomass :: bioenergy :: biofuels :: energy :: sustainability :: gasification :: plasma :: synthetic diesel :: biomass-to-liquids :: France


Since 2004, Europlasma and the CEA, the French nuclear energy agency, have been working together on the GALACSY programme to develop a sector for the profitable industrial production of synthetic diesel. In 2005, joint discussions resulted in the joint application for a licence and the establishment of a road map that aims to check the technical and economic elements at each stage of the development of industrial biofuel production.

In order to meet its ambitious objectives by 2020, the CEA and EUROPLASMA are being supported by a body of experts from LCSR (Orléans), ARMINES-CEP (Sophia Antipolis, one of France's top research valleys), and IUSTI (Polytech Marseille), all financed by the ANR.

This body is spread out and financed by funds from EUROPLASMA and CEA at CNIM (La Seyne sur Mer), SPCTS (University of Limoges-UMR), LATEP (University of Clermont Ferrand) as well as LAEPT (University of Pau and the Adour region).

In the framework of this technological deployment, EUROPLASMA is focusing on the development and qualification of a prototype torch of several hundred kilowatts that could be used for targeted applications in 2007. The torch has to be qualified before a semi-industrial demonstration platform can be developed (module 2 of GALACSY).



About the CEA:


The CEA is a technological research body with 15 000 staff. It was founded in 1945 by General de Gaulle. It conducts research in three main areas: non-greenhouse gas emitting energy - nuclear fusion, fusion and new energy technology, information and health technology, defence applications, particularly that of the nuclear deterrent. CEA is developing an ambitious programme for new energy technology. Since 1999, its budget has grown and in 2006 its budget was around €40M. It employs 330 people. It is focusing on the development of a photovoltaic sector in France and energy storage, hydrogen as an energy vector, fuel cells and, lastly, the second-generation processes for biofuel production using biomass gasification.



About Europlasma:


Europlasma was established in 1992 and specializes in the disposal of hazardous waste. It operates in niche markets with high added value. The group treats waste, such as asbestos or the residues from incineration. Thus, Europlasma offers an alternative solution to waste disposal sites, in accordance with the law and the European objectives to reduce waste production and toxicity and add value to waste. The company is also active in the fields where energy is produced from biomass and waste, particularly with the development of the GALACSY programme. In 2005, Europlasma had a turnover of 12.3 million euros.