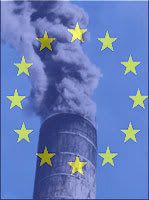 EU member states are planning to make such widespread use of carbon-reduction projects in the developing world that they could abandon cutting emissions at home, according to research published by WWF.
Analysis of carbon-allocation plans submitted for the second phase of the EU CO2 trading scheme (2008-2012) shows that EU countries are planning to make excessive use of carbon-reduction projects in the developing world. They will be importing credits from the developing world earned from Clean Development Mechanism (CDM) projects and from Joint Implementation (JI) projects.
"Some of the worst offenders are
Ireland
[*.pdf],
Spain
[*.pdf] and
Poland
[*.pdf] who plan to permit many more credits [abroad] than are needed to meet their overall emissions targets," said the WWF, which commissioned the research to consulting firm Ecofys [
summary of the report
, *.pdf]. Most projects concern the use of biofuels and bioenergy in processing industries in the developing world.
According to rules agreed by EU governments under the Kyoto Protocol on global warming, at least 50% of CO2 cuts must take place at home. In theory, the import of credits from CDM and JI projects should be supplemental, not substitute for efforts at home.
"Large use of imported credits can undermine technological innovation and transfer the responsibility for tackling climate change from polluting nations of the north to the developing world," the WWF said.
In addition, the Ecofys report suggests that
EU nations have been over-generous in allocating pollution credits
to heavy industry and power plants covered by the EU Emissions Trading Scheme (ETS) trading scheme:
biomass :: bioenergy :: biofuels :: energy :: sustainability :: climate change :: CO2 :: Kyoto :: CDM :: Joint Implementation ::

Earlier this year, carbon prices plunged by more than 60% following reports that national governments had given away too many carbon-pollution credits to its industry.

"There are strong concerns that we could see little or no effort to cut emissions in Europe because of very weak caps and generous rules for using imported credits," said Delia Villagrasa, EU Emissions Trading Scheme expert at WWF.

Several months past the initial 30 June deadline, only 13 countries in the 25-nation bloc have submitted their plan for the second phase of the ETS. The Commission is due to take a decision on the first series of plans in November.




More information:



WWF: Too many imported credits threaten EU carbon trading (5 Oct. 2006)

WWF: Summary of the preliminary findings from the ECOFYS UK Report

Euractiv: Report - EU overzealous in seeking CO2 cuts abroad

Commission (DG Environment): National Allocation Plans for 2008 to 2012 notified to the Commission

Commission (DG Environment): National Allocation Plans for 2008 to 2012 notified to the Commission

Commission (DG Environment): Emission Trading Scheme (EU ETS)

Commission (DG Environment): Emission Trading Scheme (EU ETS) - Linking Joint Implementation (JI) and Clean Development Mechanism (CDM)