Quicknote climate change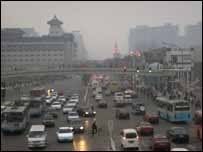 China is massively investing in coal infrastructures to meet its insatiable demand for energy. Eighty per cent of the country's electricity already comes from coal, and there are plans for 544 new coal-fired power stations. This makes China the future nightmare of all governments who take dangerous climate change serious. In an even worse development, the rising giant has also been investing in coal-to-liquids (CTL) facilities, aimed at producing synthetic diesel to be used for transport. South-Africa's Sasol, a pioneer in coal-to-liquids technolgy, has
partnered
with Chinese companies on a CTL project, as has
Shell
.
Current CTL technologies are derivatives of the original Fischer-Tropsch process created by two German coal researchers in the 1920s. In the basic process, the producer gasifies the coal to create a synthetic gas, which then is treated to create a variety of liquid fuels and chemicals.
For the first time, a Chinese top official is now
publicly dismissing
these CTL investments as irresponsible and inefficient. Half of China's cars will use cleaner fuels instead, such as energy-efficient gas and biofuels by 2025, he said. Feng Fei, director of the industrial economics research department with the
Development Research Center of China's State Council
- the comprehensive policy research and consulting institution operating directly under the central government of the People's Republic of China - told an audience of energy experts at a seminar that  "biofuels and hydrogen are the ultimate substitutes for fossil fuels" (more about China's ambitious biofuels program,
here
). According to Fei, oil made from coal, which is extremely resource intensive, must be dismissed: "The biggest problems of turning coal into oil are its low energy efficiency and high emission of carbon dioxide in the production process."  
Three to five tons of high-quality coal is needed to produce a ton of diesel, bringing the whole energy consumption to two to three times that of gasoline-driven cars, while the burning of the fuel emits 50 to 100 percent more carbon dioxide than that of gasoline.  
 With a larger reserve of coal than oil, China can make oil from coal as part of the country's strategic reserves, but large scale of production runs against China's goals to improve the efficiency of energy use and to cut pollution, said Feng.  
  China has ascertained oil reserves of 24.8 billion tons and coal reserves of more than one trillion tons.   China is estimated to need 450 million tons of petroleum a year by 2020, with more than half to be imported [entry ends here].  
ethanol :: biodiesel :: biomass :: bioenergy :: biofuels :: energy :: sustainability :: coal-to-liquids :: climate change :: China ::