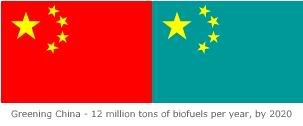 China National Cereals, Oils and Foodstuffs Corporation (
COFCO
), the country's main fuel ethanol producer, has
announced
that it will invest more than €1 billion in ethanol projects in line with the nation's plan to develop clean energy. (See our
analysis of China's ambitious biofuels program
).
"In the next three to five years we will spend 10 billion yuan (€1billion/US$1.26 billion) in the ethanol sector so as to increase the production capacity to 3 million tons," said Yue Guojun, general manager of COFCO's bio-chemical and bioenergy division.
The company yesterday officially began construction of a cassava ethanol plant in South China's Guangxi Zhuang Autonomous Region, which has an annual production capacity of 400,000 tons, making it one of the world's largest plants. The facility drew a total investment of 1.46 billion yuan (€140million/US$185 million), said Yue.
It will take 12 to 14 months to build the first of two production lines in Guangxi. COFCO will begin construction of a second line late in 2007 or early in 2008. "As a new business, we will attach great importance to the development of bio-energy in the future," Ning Gaoning, president of COFCO, told reporters during a press conference.
"We estimate a net profit of 1 billion yuan (€100 million/US$126.6 million) a year after all the ethanol capacity is put into operation," said Yue, who is in charge of the company's bioenergy business.
Ning told reporters that COFCO was in talks to buy into the 440,000-ton-per-year ethanol plant in East China's Anhui Province. And it is also awaiting government approval to build a 300,000-ton-per-year ethanol plant in North China's Hebei Province and another plant in Northeast China's Liaoning Province of a similar size. The Hebei plant will convert corn and sweet potatoes into bio-fuel, while the Liaoning plant will use only sweet potato, he said.
Sweet potato (
Ipomoea batatas
- not related to the potatoes known in the West) [
Handbook of Energy Crops infosheet
], is an excellent sugar and starch-rich energy crop, a tuber that thrives well in a wide range of climatic conditions, in relatively poor soils and requires almost no fertilizer inputs; sweet potatoes yield about 3 to 4 times more ethanol per hectare (between 8000-10000 liters per hectare) than corn (2500-3500 litres per hectare):
ethanol
::
biomass
::
bioenergy
::
biofuels
::
energy
::
sustainability
::
sweet potato
::
cassava
::
China
::

COFCO already owns an ethanol plant in Northeast China's Heilongjiang Province and has a 20 per cent stake in another plant in Jilin Province, both with total annual capacity of 800,000 tons and using corn as feedstock:

China has become the world's third-largest ethanol producer after Brazil and the United States, said the National Development and Reform Commission (NDRC).

The government will continue offering subsidies to fuel ethanol producers. It currently provides the four plants 1,373 yuan (€138/US$173) in subsidies for every ton of ethanol.

The nation plans to double its domestic ethanol gasoline production figure in the 11th Five-Year Plan period (2006-10), said the NDRC.

Bioenergy has been developing rapidly in China. According to statistics, by the end of 2005 more than 18.07 million households were using methane gas for fuel. More than 3,550 bioenergy projects produce nearly 7 billion cubic metres of methane each year, according to the statistics. Bioenergy will account for 1 per cent of China's renewable energy consumption by 2010, and 4 per cent by 2020, said sources with the Ministry of Agriculture (MOA).

Analysts said that developing bioenergy in rural China will promote the development of China's agricultural industry. According to the MOA, China's installed capacity of bio-energy electricity will reach 5.5 million kilowatts by 2010, and 30 million kilowatts by 2020.