Quicknote bioenergy cooperation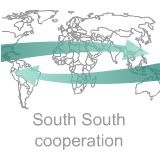 Argentina and Brazil have
agreed
to work together on the development of biofuels, a spokeswoman for the government said. Argentine Planning Minister Julio De Vido and Brazil's Development and Industry Minister Luiz Furlan reached the agreement in Buenos Aires, the spokeswoman for De Vido's ministry said.
Brazil's
Banco Nacional de Desarrollo Económico y Social
will be the main investor and ensure that an infrastructure for knowledge and technology transfers is put in place. "The experience that Brazil has in the area of biofuels will be made available to the Argentine government and executives," Furlan was quoted as saying by Argentine state newswire Telam after meeting with De Vido, Argentina's chief energy planner, and other energy officials.
Brazil, the world's biggest producer of ethanol from sugarcane, is expanding exports of its biofuels and expertise. Argentina is stepping up production and use of biodiesel and ethanol to ease demand for fossil fuels in the face of a declining supply of oil and natural gas that is pushing the energy-exporting country to greater reliance on imported gasoil, fuel oil and natural gas.
In 2010, all diesel and gasoline must contain at least 5% plant-based fuels. Argentina has ample supplies of corn, soybeans and other feedstock for ethanol and biodiesel. Companies are planning major investments to develop the products with an eye to exporting so as to tap growing demand for the fuel additives. Last month, the country's biggest corn association Maizar said it would invest $4 billion over the next five years to produce 4 million m³/year (1 billion gallons) of ethanol for export [entry ends here].
ethanol :: biodiesel :: biomass :: bioenergy :: biofuels :: energy :: sustainability :: Brazil :: Argentina ::