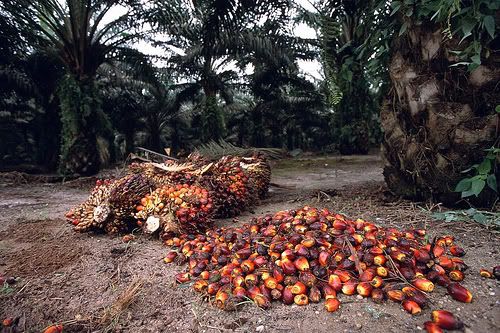 Earlier we wrote about
Congo's colonial era plantations that still exist
and that urgently need to be rehabilitated. All over Africa there are similar palm plantations that yield far below their potential, and some of them have even entirely been abandoned. Bringing these plantations back online in a well managed way, or replacing the palms with new high yielding varieties, offers a potentially environmentally (and if undertaken correctly, a socially responsible) way of sourcing biofuels feedstock: no new hectarages are deforested to make way for new plantations, and some of the world's poorest communities find new and stable employment opportunities. This is exactly what American company International Bio Fuels Corp (IBF) is attempting to do in Liberia, a country that just came out of a bloody civil war which seriously damaged the plantation sector.
IBF
announced
today that it plans to develop a large scale biodiesel plant and palm crushing facility in Liberia. IBF and its Liberian business counterparts have been working with the local government officials and local farmers for the past nine months for the implementation of this project.
According to IBF, it is planning to work with a couple of large philanthropic foundations to raise the capital required and that the majority of the profits will be used to build schools, hospitals and to revitalize the local communities through establishing small educational training centers for the prevention and education of diseases.
The project should employ tens of thousands of farmers and elevate the standard of living throughout Liberia and the region. IBF's President Marty Johnson said, "It's kind of like the gift that keeps on giving. Foundations are accustomed to donating funds to build schools and hospitals and that's where the money stops. This way we can build a profitable entity that puts thousands of people to work and generates ongoing profit that can then be re-invested in the communities for years to come."
IBF and its Liberian business counterparts say they have identified locations where there are pre-existing palm plantations:
biodiesel :: biomass :: bioenergy :: biofuels :: energy :: sustainability :: oil palm :: plantations :: Liberia ::


Currently the palm is just going to waste as there are no crushing facilities available in these regions; this valuable renewable resource is going un-tapped. Johnson explains that the cost of the biodiesel plant and crushing facility is not cheap. The turn-key facility is estimated at $65 million USD for development and construction costs. However, the project is projected to net over $50 million USD per year, which will go a long way to stimulate a tremendous amount of growth in the region.

International Bio Fuels is in the development stage of 14 projects which are located in the U.S., Indonesia, China, and now, Africa, but says this is the first of its kind to be built with the intention of generating profits to be given to the communities for worthwhile development. Johnson said, "Foundations similar to the Bill and Melinda Gates Foundation and the Rockefeller Foundation (which recently announced their African Green Revolution program which is intended to put farmers to work) are those which will hopefully help sponsor this project."

International Bio Fuels Corp. is a leading biofuels company dealing in both ethanol and biodiesel. IBF recently presented at this year's International Biofuels Symposium in Beijing, China on the topic of emerging technologies.