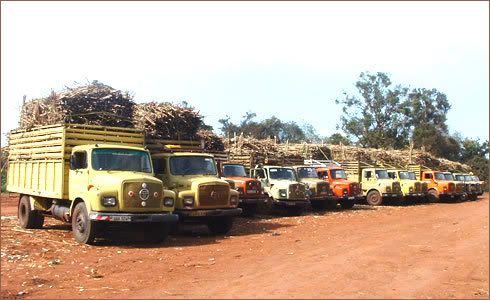 Lorries with sugar cane, Uganda. The country's thriving sugar industry has a lot of room to expand. In theory, Uganda could leapfrog towards energy independence through biofuels.
The East African
. Uganda will soon make it compulsory for oil companies to blend petroleum with a variety of biofuels (ethanol or biodiesel) as the country tries to beat rising oil prices by reducing dependence on petroleum, a senior government official has said.
The Ugandan
Ministry of Energy
says it has completed development of a policy on a renewable energy that will make in compulsory for oil companies to fossil diesel and gasoline with climate neutral fuels. Energy Minister Daudi Migereko says the policy [no documents yet], which covers ethanol, biodiesel, biomass, wind and solar, is essentially ready and will require oil companies to blend petroleum with ethanol to a maximum ratio of 20 per cent.
In 2005, Uganda produced some 1.6 million tonnes of sugarcane (
FAOStat
), giving the country's sugar industry a large potential for the production of ethanol, with much room to expand. But oil companies have been reluctant to blend the green fuel with petroleum, arguing that the majority of motor engines in the country not optimised to burn on ethanol and will suffer corrosion. With oil prices currently at an unprecedented peak, the government is taking a keener interest in fuel alternatives.
"The ratios for biofuel are still being worked out, but given the rate at which oil prices are rising and the fact that the cost of ethanol and biofuels are now lower, it is in our interest to diversify the energy mix in order to reduce dependence," said Mr Migereko.
He said oil companies' misgivings notwithstanding, the government would be firm in giving direction on the issue. "As a country, we have limited supply of foreign exchange, so there is no more justification for sticking to a product that is becoming increasingly expensive," he said.
Uganda on average consumes a combined volume of 840 million litres of refined diesel and petrol annually, meaning the country pays a higher price for fuel than either Kenya or Tanzania, who import crude oil and refine it locally:
ethanol :: biodiesel :: biomass :: bioenergy :: biofuels :: energy :: sustainability :: renewables:: Uganda ::


Industry players who spoke to the The EastAfrican said they had not been consulted over the proposed policy but warned that factors surrounding the supply side of ethanol needed careful study since the local sugar industry lacked the capacity to supply adequate quantities. This could make blending uneconomical as a result of high ethanol prices and could also distort food production.

Without a stable source, there is a danger that food prices could skyrocket as energy competes with nutritional needs from source crops, the industry warned.

Uganda produces less than 200,000 metric tonnes of sugar annually and it is not known how much ethanol the sugar industry is capable of producing if demand rises. At current production figures, at least 10.6 million litres of ethanol would be required every month to meet the ministry's target of 20 per cent blending.

Oil companies also point out that while Brazil has a long tradition of ethanol production, the country has a large sugar industry and a local automobile industry that produces vehicles adapted to ethanol use.

"Technically it has been done but the problem here would be in finding derivatives to add. One also needs to find out what has to be done to engines to run on blended fuels and what impact these have on engine life, one player said.

Mr Migereko cast doubt on arguments that ethanol could reduce engine life, arguing that countries that are using ethanol-blended fuel buy vehicles from the same production lines that supply Ugandan vehicles. "Ordinary people are already ahead of us because in the rural areas, motorists are already blending petrol with locally distilled liquors, he said.

The policy will come into force as soon as the ministry has completed financial provisions to support the Department for Renewable Energy. The department will be responsible for monitoring and putting together the expertise to address technical issues.

"All those issues have cost implications that must be budgeted for, but given the urgency of the matter, this may not wait for the next financial year, said Mr Migereko.

The Ministry's policy comes on the back of a number of ongoing initiatives by the private sector to produce bio-fuel.

Edible oil and personal care products manufacturer Mukwano Group recently said that studies into the production of bio-fuel and electricity generation from renewable sources by the company were at an advanced stage.

Chief executive Hassan Rizvi last week told The EastAfrican, that the company would roll out its renewable energy programme in two months.