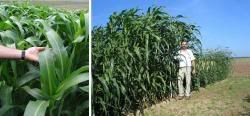 Sudan grass (
Sorghum sudanense
) and the common sorghum (
Sorghum bicolor
) are widely distributed over the humid tropics and subtropics where they have been cultivated for thousands of years. In Africa, the elegant soghums are a typical element of the landscape. In the near future, they might turn up in Europe as the search to find the most suitable energy crops intensifies.
The German federal Centre for Breeding Research on Cultivated Plants (
Bundesanstalt für Züchtungsforschung an Kulturpflanzen
) launched a project studying the biomass production potential of these two crops, and its first results are promising.
Biomass crops are set to make up an ever important part of Germany's energy landscape, with special attention going to the production of biogas from dedicated crops and to crops for cellulosic ethanol. Currently, the country's main energy crop is maize, followed by rye which is cultivated in drier regions. In highly developed crop rotation systems, plants that are new and exotic to Central European agriculture could be used. It seems like both sorghum and sudan grass offer an optimal combination with rye.
Dr Steffen Roux (pictured next to a hybrid between
sorghum bicolor
and
sorghum sudanense
) heads
the project
in Gross Lüsewitz. It is no coincidence that the tropical grass species bear some resemblance with maize and with rye, he says, because, evolutionary speaking, they belong to the same family. Both exotic plants use water resources very efficiently, withstand moderate droughts, grow very fast, and have a high biomass productivity. Rye grows fast as well and is traditionally harvested in June, after which several months remain before winter sets in. It is in this period that a second crop can be grown, provided it is a true sprinter. The sorghums and hybrids that are being developed, are. Encouraging dry matter yields are the result of this sequence:
ethanol :: biomass :: bioenergy :: energy :: sustainability :: sudan grass :: sorghum :: biogas :: Germany ::


Roux: "Because of its robustness, rye grows well in lighter soils in North-Eastern germany. The crop has many uses either as a grain crop for human consumption or as animal fodder, for ethanol and lactic acid production, and for the production of biomass for energy. When it comes to the latter use, rye has the advantage that it grows fast and makes room for a second crop. Agro-economically speaking, this makes biomass production for energy very attractive."

The research project started in june 2006, and aims to study whether sorghum and a hybrid between sorghum and sudan grass are suitable in Germany as crops to follow rye. Genetic research into sorghum varieties and species will determine which kinds of grass will withstand the German climate and conditions best. After this has been determined, an active breeding and selection program will be launched.

The project in Gross Lüsewitz is part of a bigger program into new crop rotation systems utilizing exotes for energy. Six more test sites located in (southern) Germany will determine which environmental factors are at play for which kinds of crops. In total, the site in Gross Lüsewitz is analysing 16 sorghum and sudan grass varieties, that are being compared to hybrids of the two plants.

Even though there are no final results yet, Dr Roux is already impressed: "The sorghums and the hybrids were sown on June 27 and despite the strong summer heat and drought during the first 40 days -- we only had 10mm of rain -- the grasses are growing fast and very homogeneously. Growth rates showed very rapid growth, and today, three months after the introduction of the crops we have reached a height of 2.70m (9 feet). It seems like above ground dry matter yields will be respectable and point to a potentially interesting utilization of the crop as biomass for energy."