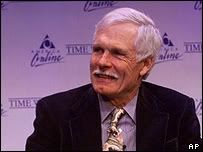 Very important news. Earlier we hinted at the fact that biofuels might revive the collapsed WTO trade negotiations known as the Doha Development Round which is aimed at creating a global trade regime that is more fair to the developing world. No major news source however looked at this potential role of biofuels in the negotiations. As we have written on numerous occasions, our mission at the Biopact is to make the case that it is time to get rid of EU/US agricultural subsidies and trade barriers (which are the cause of the deadlock), and to open the market to biofuels produced by developing countries. The resulting 'win win' situation would bring millions of jobs to the world's poorest, cut their energy bill, increase energy security in the West, bring the EU/US abundant and competitive biofuels (unlike their own which need subsidies) and bring a more equitable distribution of capital and wealth on a global scale.
Now CNN/AOL Time Warner boss Ted Turner thinks biofuels are indeed the key to resolve the deadlocked trade negotiations and he sums up the exact same reasons as we have been doing here. He urges negotiators to save Doha, using bioenergy as the lever.
Turner told a public forum at the World Trade Organization yesterday that biofuels — liquid fuels made from plants and trees, including biodiesel for trucks and generators and ethanol for cars and cooking — can do more than fight global scourges like pollution and global warming.
They can also solve the bitter dispute that scuttled the commerce body's trade liberalization talks two months ago by providing rich countries a means of keeping their farmers in business, instead of doggedly subsidizing products that can be farmed more cheaply in poor nations, such as cotton, sugar beets or cane and rice.
The Doha round of trade talks was launched in Qatar's capital in 2001 with the aim of boosting the global economy by lowering trade barriers across all economic sectors, with a particular focus on helping developing countries by boosting their export growth.
The talks came to a screeching halt in July, largely over the unwillingness of rich countries like the United States, the 25-nation European Union and Japan to offer deeper cuts in subsidies paid to farmers or ease access to their agricultural markets for foreign goods. Recent meetings in Brazil and Australia have only confirmed the deep divisions among the organization's 149 members.
"I would have preferred to stand in front of you under different, more encouraging circumstances since it is always easier to find your way to the door with the lights on," WTO Director-General Pascal Lamy told the forum of academics, activists and government officials. "We missed an important opportunity to advance our plea for a stronger multilateral trading system," Lamy said.
Turner talked of the promising opportunities in corn, sugar beets and sugar cane that can be converted into ethanol, and palm, soy and rapeseed oil that can be transferred into biodiesel. These sources, he said, would provide poor countries with local jobs through substituting the fuels for oil imports:
ethanol :: biodiesel :: biomass :: bioenergy :: biofuels :: energy :: sustainability :: development :: poverty :: trade :: WTO :: Doha :: Africa ::


He said subsidies and tariffs should be replaced by support for biofuels. "Farmers have always grown crops for food and fibre," Mr Turner said. "Today, farmers can grow crops for food, fuel and fibre. The global demand for biofuels is huge and rising. "That's why I'm confident that in the near future, farmers' incomes will be assured, not by subsidies and tariffs, but by market forces."

Mr Turner was speaking in his role as chairman of the United Nations Foundation, which was set up in 1998 after he gave $1bn to support UN causes and activities.

The UN Foundation is promoting the production and use of biofuels in developing countries and wants to attract more foreign and domestic investment in the area.

"By investing in biofuels, developing countries can produce their own domestic transportation fuels, cut their energy costs, improve public health, create new jobs in the rural economy and ultimately build export markets," Mr Turner said:


It is very interesting to hear Mr Turner's ideas, but of course many questions remain: Turner rejected a question later at a media conference concerning how biofuel production can be safeguarded against new forms of subsidies. It is unclear what protection poor countries would have under WTO rules for protecting biofuel producers from competitors in rich countries aided by government subsidies.

Moreover, nothing would change if the West were merely to replace its agricultural subsidies for food and fibre crops, and transfer them to energy farming. So it remains to be seen how this proposal will be worked out technically.

But one thing is certain,

if

tariffs and subsidies in the EU and the US are removed, and if a global level playing field for trade is created, then the developing world has an enormous opportunity to benefit and lift millions out of poverty by producing and exporting biofuels to these markets. The global South has the competitive advantage: plenty of unused arable land, suitable agro-ecological conditions, where tropical crops with high yields can be grown.

We will follow up very closely on this issue and report back as soon as more details emerge.



More information:



Forbes: Turner Sees Biofuels As Key To Trade - Sept. 25, 2006

International Herald Tribune / Associated Press: Ted Turner tells WTO of benefits in biofuel use - Sept. 25, 2006

BBC: Biofuels 'answer' to trade talks - Sept. 25, 2006

MercoPress: Biofuels could be key at WTO - Sept. 25, 2006

South Africa Business Report: Let green energy rescue Doha negotiations, says Ted Turner - Sept. 25, 2006

India Business Domain: Biofuels can break WTO deadlock, says Ted Turner - Sept. 25, 2006