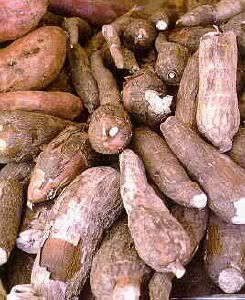 Cassava is rapidly becoming a preferred crop for the nascent biofuels industry in sub-Saharan Africa. The starchy tuber is widely and easily cultivated, yields an impressive amount of useable biomass, thrives in poor soils far away from rainforests, without requiring much water, and it copes well with difficult climatic conditions (it withstands moderate droughts). This is why cassava or manioc is traditionally seen as an 'emergency crop' in Africa, planted when all else fails.
Nigeria is a leader in the use of cassava for the production of ethanol
, on which it has based an ambitious biofuels program, and now Tanzania is following in Nigeria's footsteps.
Millions of dollars Tanzania spends on importing petroleum products could be saved, thanks to an ambitious three-year pilot project on the use of cassava to produce energy for for industrial processes. The project is run by the
Tanzania Commission for Science and Technology
(COSTECH).
According to East African Business Week (via
AllAfrica
) Tanzania spent US$1.1billion on oil imports in a period of one year starting July 2005 to about the same time this year, a situation the country's central bank is not comfortable with. Understandably so, because high energy prices impact developing countries heavily. Many developing countries, such as Tanzania, have a high 'energy intensity', which means that they feel the effect of rising oil prices immediately, and in all economic sectors (highly developed countries both have a very efficient energy infrastructure, financial and economic instruments to mitigate price rises, and scale-advantages - which is why they are better armed against high energy prices). Tanzania is therefor looking elsewhere, away from the oil and gas that plagues its economy so much.
According to Mr. Matheo Raphael, the director of COSTECH's
Centre for the Development and Transfer of Technology
, the project will add value to cassava by turning it from being a food security crop into a crop for industrial use and even for export. "Cassava production may be oriented for industrial use and that will push its production and value as well as help fight poverty," Raphael said. He said currently many farmers hesitate to cultivate more cassava since they see it as an 'emergency crop' only. The centre now wants to extract ethanol from cassava which is easy to cultivate and resistant to drought. Raphael said the development of cassava into bio-fuel was crucial at this time when oil prices are soaring and foreign reserves dwindling.
"The spotlight is turning to ethanol made from fermented cassava starch, which is a promising resource." Similar to other types of ethanol obtained from agricultural products, it can be used to substitute 25% of petrol in vehicles with standard engines, and up to 50 for diesel engines, especially in agricultural machines.
Producing biofuels using agricultural machines that work on biofuels...
:
ethanol :: biomass :: bioenergy :: biofuels :: energy :: sustainability :: cassava :: Africa :: Tanzania ::


"That means the country would import less fuel," Raphael said.

He said, however, that the project needs a lot of support from politicians. "We will first run a pilot project in the coastal and central regions to convince politicians that it is viable."

The expert, however, warns that the product must be vigilantly guarded because the same chemistry used in production of bio-fuel ethanol is applied in the preparation of illicit spirits (see earlier post about Nigeria's 'alcohol-as fuel or alcohol-to-get-drunk' dilemma).

Tanzania is one of the largest cassava producers in Africa. About 700,000 hectares of land are under cultivation with total production of about 1.8million tonnes of cassava. Cassava producing regions are Mtwara, Mara and Ruvuma.

A fortnight ago, the Prime Minister, Mr. Edward Lowassa said the government is set to sign agreements with Thailand and Vietnam in fields that cover biotechnology among other things. Lowassa said President Kikwete was to sign the agreements during an international conference in Cuba last week. The Premier said there was a consensus about inviting businessmen from Thailand and Vietnam to invest in production of petrol and diesel from cassava, sugarcanes and jatropha.