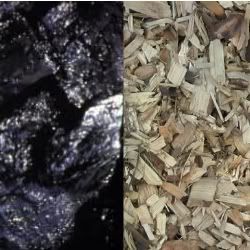 Carbon is becoming an ever increasing problem. We already knew that CO2 emissions cause global warming, but strategies and targets to reduce them were designed and are up and running (carbon trading). The real drama is that
serious cracks
are now appearing in the 'European Union Emissions Trading Scheme' (ETS), this most publicised of weapons for fighting climate change. The big idea was that polluters have the right to emit a certain amount of carbon dioxide. But if they reduce their carbon dioxide emissions beyond a certain level, they can make money by trading the unused part of their quota.
The problem now looks like this: with the introduction of the ETS, prices for dirty coal shot up, making it more expensive for utilities to use this most polluting of fuels. So far so good. But then utilities using cleaner technologies, such as nuclear and natural gas, simply raised their electricity prices to the same level, and let the consumer pay. The result: windfall profits for utilities. Since many utilities play on several horses at the same time (they own both natural gas and coal plants), their overall profits have gone up, and the incentive to abandon coal has become eroded. This is what many have called the first
'scandal'
, and it became most apparent in the UK.
But there's even more: meanwhile, natural gas prices shot up in a
real
way, and the cleaner fuel has become so expensive, that the anti-coal incentive is now virtually worthless. On top of this, the
price of carbon-credits in Europe has collapsed
, worsening things.
The carbon trading system is in disarray. For this reason, more and more people are beginning to urge a 'radical', 'real' and 'mandatory' use of alternatives such as biomass. Biomass is carbon-neutral, or when produced in the tropics, it can even be
carbon-negative
.
British minister for climate change and environment Ian Pearson therefor wants to see a
"radical" rise
in the use of biofuels as part of efforts to cut carbon dioxide emissions and improve security of supply amid soaring oil prices. "We want to see a real step change in biomass use to meet these energy challenges," Pearson told a bioenergy conference organised by the Renewable Energy Association in Weston-super-mare, western England.
Biomass in power generation alone could cut Britain's CO2 emissions by up to 3.5 million metric tonnes a year, he said:
biomass :: bioenergy :: biofuels :: energy :: sustainability :: CO2 :: carbon credits :: global warming ::coal

Biomass is seen as cutting carbon emissions compared to fossil fuels like gas and coal, and is also considered an ideal fuel for combined heat and power plants which power local communities or buildings and involve efficiency savings.

Urgent action was needed from all sectors to cut emissions significantly and combat climate change, Pearson said. "We believe that biomass has an important role to play as an alternative source of energy to help meet these challenges." Pearson said that while Britain would meet its greenhouse gas emissions cuts targets under the Kyoto agreement and even beat its target for the 2008-2012 period by as much as 23 percent, its own more ambitious target of CO2 emissions cuts was looking less achievable.

The government had pledged to cut emissions of CO2 in 2020 by 20 percent compared to 1990 levels, but admitted earlier this year the target would be a tough one to meet. The rise in UK gas prices over the last few years has led to greater use of coal to fire power stations, which has resulted in higher CO2 emissions than the government had anticipated, the minister said.

The question is whether the carbon-trading scheme really works, and if it weren't better to mandate the use of biomass. The solid biofuels could be sourced from the developing world, in a win-win situation. In-depth research has shown that such a trade is feasible, and that even despite long distances involved in moving the bulky biomass, CO2 savings would be considerable.

More information:
Joint IEA Bioenergy Task 38 and Task 40 Workshop: Greenhouse gas credits trade versus biomass trade – weighing the benefits [*.pdf]

IEA Task 40: Bioenergy Trade: International bioenergy transport costs and energy balance [*.pdf]

BBC: Concerns over EU carbon trading - 15 May 2006

BBC: Carbon trading's real colours - 16 May 2006

BBC: '£1bn windfall' from carbon trade - 1 May 2006