Quicknote bioenergy infrastructure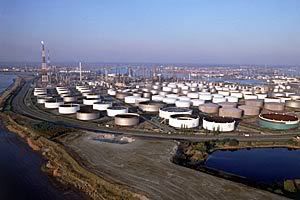 Earlier we wrote about
'bioterminals' in the Benelux
, showing that the ports of Rotterdam and Eemhaven in the Netherlands, combined with those of Antwerp and Ghent in Belgium are working to become a vast logistical hub for the nascent global bio-economy.
Officials from the Antwerp Port Authority now tell the
Flemish Information Centre for Agriculture & Horticulture
[*Dutch], that even though the port is already Europe's largest petrochemical hub, they want to turn Antwerp into the continent's largest biochemical cluster as well.
Xavier Vanrolleghem, spokesperson for the chemical cluster in the port, explains the advantages of the port of Antwerp and why the idea of a bioport is feasible:
"The port is centrally located in Europe, directly connected to the UK, France and Germany. The logistical infrastructure is world class with both dedicated waterways, railways and highways linking the port to the entire continent. These advantages, added to the fact that the European market for biofuels and bioenergy feedstocks is growing rapidly, make it both necessary and feasible to create a bioport."
For the establishment of bioprocessing clusters, so-called 'greenfields' of about 15 to 25 hectares are required. Petrochemical giants like Bayer and Monsanto, who own huge swathes of the harbor's real estate, have said they are willing to make such fields available to other companies active in the emerging bio-economy, Vanrolleghem added.
The Port of Antwerp currently imports raw biomass for energy from all over the world, ready to be distributed across Europe. It has one operational biodiesel factory, owned by firm Dow Halterman, which produces for the German market. The Belgian government has so far received 32 applications of companies wanting to establish bio-ethanol and biodiesel plants in the country, most of them in Antwerp and Ghent.
ethanol :: biodiesel ::biomass :: bioenergy :: biofuels :: sustainability :: bioterminal :: bioport :: Antwerp ::