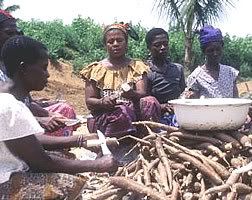 Only yesterday we
reported
about the dramatic news of the failed USAid project which was aimed at creating a disease resistant cassava. The news slashed East African farmers' hopes of working with a crop that would boost their food and fuel security.
But today, an entirely different message can be heard coming from the other side of Africa, from Nigeria. By the tempo of research at the country's
National Root Crops Research Institute
(NRCRI) Umudike, Abia State, Nigeria will in the next five years be producing eighty metric tons of cassava per hectare of farmland to meet the international demand for starch, the executive director of NRCRI, Dr Kenneth Nwosu has
said
.
At present, the country produces 38 million metric tons per annum which places her as the world's highest producer of the crop. Nigeria cultivated around 4.1 million hectares of the starch crop in 2005. Yields however are extremely low, standing at and average of 9.3 tons per hectare (see
FAOStat
). (These average yields are so low because the FAO takes into account all cassava produced, also those tonnages coming from micro-farms and households).
Nwosu, thinks that this will change soon. According to him, the NRCRI has so far developed and released over 22 hybrid cassava varieties with potentials for 35 percent higher yields than the local ones. Among these, he added, are the Umudike bred NR 8082 and 8083 which are currently the national best varieties, adding that these varieties were recently developed to checkmate the insurgence of the much dreaded African cassava mosaic virus.
He also said that under the presidential initiative on cassava, NRCRI has supplied 200,000 bundles of cassava sticks to several state and local governments, Non governmental organizations, women farming groups, as well as individual farmers, while over 200 hectares of cassava farms are being established each year in readiness to meet the ever increasing demands:
ethanol :: biomass :: bioenergy :: biofuels :: energy :: sustainability :: cassava :: Nigeria ::

Another breakthrough made by the institute is the development of a technology for storage of gari (rudimentary processed cassava starch) for a shelf life of 12 months:

In the meantime, he added, the institute is producing 120 metric tons of high quality gari towards the National Strategic Food Reserve, adding that last year, supplies were taken from these reserves via presidential order as relief supplies for the famine victims in Niger Republic and crises torn areas of Kano and Plateau states.

He explained that with efforts being made, the research institute would be producing jobs for about three million Nigerians in the next few years, especially with training programmes organized on a regular basis for various groups, adding that to date, about 150 communities in different parts of the country have benefited from the training programme.