Quicknote bioenergy economics
Nigeria estimates it will earn roughly €110 million (US$150 million) annually when the first stage of the country's biofuel project comes on stream, Funso Kupolokun, the group managing director of the Nigerian National Petroleum Corporation (NNPC) has
said
.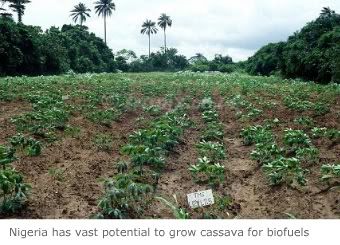 Kupolokun who disclosed this recently at a lecture in Lagos said the project is part of the nation's alternative energy development strategy which is aimed at utilizing cassava and sugar cane to produce ethanol (
earlier post
). He explained that under the initiative, besides ethanol, palm oil biodiesel will be produced as well. To this end, Kupolokun said special research initiatives would be sponsored by the NNPC to boost cassava and palm oil output in the country as part of the implementation process of the project. The venture would bring about the establishment of several ethanol production plants at an average cost of €100 million (US$160mio) each.
Kupolokun further said his company has secured a grant of €70,000 from Germany's
Renewable Energy Efficiency Partnership
[REEP] to provide support to the detailed feasibility studies at target locations. While saying that the implementation of a renewable energy project is one major priority of his company in the year, Kupolokun explained that work for the modification of its import reception facilities in Port Harcourt and Mosimi had commenced in preparation for the distribution of biofuel products (what such bioports and bioterminals might look like in the future, see
previous post
).
Cooperative agreements, he added, were being considered with institutions such as the University of Agriculture Makurdi, the
International Institute for Tropical Agriculture
(Ibadan) and the
Nigerian Cereal Research Institute
(no website, but details at the FAO) to execute the research aspect of the biofuel project [Entry ends here].
ethanol :: biodiesel :: bioenergy :: biofuels :: energy :: sustainability :: cassava :: sugarcane :: Nigeria ::