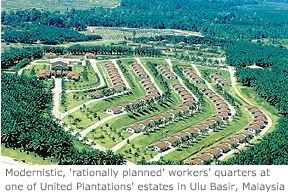 An oil palm plantation yields a huge amount of
"waste" biomass
that normally gets burned in the open air. For each ton of palm oil produced, around 5 tons of palm fronds, 1 ton of palm trunks, 1 ton of empty fruit bunches, 750kg of press fibre, half a ton of palm nut kernels and a few hundred kilos of palm kernel press cake becomes available as "waste". Added to this, the processing of fresh fruit bunches coming from one hectare, releases some 100 tonnes of 'palm oil mill effluent', an organic sludge. In total, one hectare of
Elaeis
trees yields some 5 tons of oil, and
40 tons of solid residual biomass
. Now if this biomass is burned, a lot of CO2 is released into the atmosphere. It would be wiser to use this solid biomass for energy production, so that the CO2 emissions are not released in vain and don't contribute to global warming.
It is becoming apparent that oil palm plantations have to clean up their act on almost all fronts. Instead of expanding and destroying more rainforest, they should intensify and develop higher yielding varieties that can increase productivity on plantations that already exist. The practise of clearing and burning rainforests not only means eliminating its biodiversity (which is bad enough), it also means releasing enormous amounts of dangerous CO2 into the atmosphere. Instead of burning waste streams and diverting mill effluents into rivers, the energy contained in the waste should be used, as green energy.
This is exactly what one of Malaysia's
oldest
estates, United Plantations Bhd, is now doing. The plantation's new
bioenergy facilities
make it one of the country's first companies to start earning carbon credits. A new biomass power plant and a biogas plant have been installed. The first plant uses the solid biofuels, whereas the biogas plant uses palm oil mill effluent and easily degradable biomass.
The two power systems will reduce dependence on fuel oil (diesel) that is used in the plantations' housing, processing and transport facilities. More importantly, they will slash the amount of carbon coming from the plantation by up to 40 per cent per year. These reductions will be reflected as carbon credits, so-called 'certified emission reductions' (CERs) of greenhouse gases, that it agreed last year to sell to the Danish government, as part of a
Clean Development Mechanism
project (the
'registered projects' database
shows there are several similar projects with palm oil waste biomass under review):
biomass :: bioenergy :: biofuels :: energy :: sustainability :: palm oil :: waste :: biogas :: Malaysia :: Denmark ::

CERs are beginning to be traded in a small but growing market in Europe, as part of efforts to meet targets under the Kyoto Protocol. The European 'Emissions Trading Scheme' (ETS) puts a cap on how much producers can emit and allow them to buy carbon credits to offset what they cannot reduce.

The company is also launching a new variety of oil palm that could yield roughly 40 per cent more per hectare than its current crops produce. The new variety could produce up to 8 tonnes a hectare, compared with 5.65 tonnes for the current varieties, and the national average of 3.85 tonnes. Bek-Nielsen said its research centre had made a technological breakthrough in tissue cultivation and oil palm seed cloning.