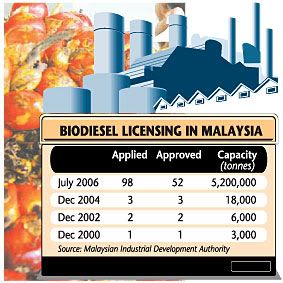 Two contradicting messages are coming out of Malaysia: on the one hand, the government has been issueing licence after licence for the construction of not less than 52 biodiesel plants, but on the other hand, it announces that the country has virtually no land left for the establishment of new oil palm plantations which are supposed to deliver the feedstock for the biodiesel.
The last announcement means that Malaysia will have to start looking overseas to expand. And the country's recent agreement with Venezuela already hints at this future (Hugo Chavez:
"Palm oil is very important to us. If Malaysia doesn't have the land to plant anymore, Venezuela has it"
). But for now, Malaysia faces a clear planning dilemma: if it issues more licences, it automatically commits part of its future crude palm oil stocks to the production of biodiesel. But if the licences granted do not result in the actual construction of biofuel production plants, its plan of converting its last bits of land to palm oil plantations risks resulting in an overcapacity of palm oil, with a potentially disastrous price collapse as a consequence.
For this reason, the Malaysian government is subtly starting to use a harder tone, suggesting that those who did indeed receive a biodiesel plant licence better take the permit serious, or they will face the consequences. What's more, the government is giving hints that it may even revoke some of the licences:
ethanol :: biodiesel :: biomass :: bioenergy :: biofuels :: sustainability :: palm oil :: land :: Malaysia ::




Being careful with licences



"The Government has so far issued 52 biodiesel licences. We want to see all these biodiesel licence holders follow through with their plans," Plantation Industries and Commodities Minister Datuk Peter Chin Fah Kui told Business Times. "We want genuine and committed investors. We object to those who are not serious, or have the intention to get the licence and sell it for a commission," he added.

Chin said ministry officials are already checking whether the licence holders have started to build their biodiesel plants. "If they have not done so within the time frame they stated in their biodiesel applications, we'll ask them to show cause," he said.

Chin said that if the ministry is not satisfied with the progress of these biodiesel licence holders, stern action will be taken, including taking back their licences. Carotino Sdn Bhd, Carotech Bhd and Golden Hope Plantations Bhd are currently producing methyl ester as a by-product of extracting Vitamin E from palm oil.

Larger-scale biodiesel plants, capable of churning out 60,000 tonnes a year, have been built by Malaysian Palm Oil Board joint-venture partners Rubiatec Sdn Bhd (a unit of Golden Hope Plantations Bhd), Kumpulan Fima Bhd and JC Chang Group's Carotino Sdn Bhd. These three biodiesel plants, involving RM120 million investments, or RM40 million each, are in Port Klang, Selangor and Pasir Gudang in Johor.

Last year, Malaysia produced 15 million tonnes of palm oil products, of which 90 per cent was exported to over 140 countries, earning the country some RM30 billion in sales. Two months ago, Malaysia and Indonesia - the two biggest palm oil producing countries in the world - agreed to set aside six million tonnes of crude palm oil (CPO) a year as feedstock for biofuel and biodiesel manufacturing.

This reassured biodiesel investors that there would be adequate supply of raw materials for their factories. The Government has time and again reminded oil palm plantation owners in Malaysia to produce more CPO through replanting high-yielding clones, instead of expanding their plantation area. "By 2010, we aim for a yearly CPO production of 18 million tonnes gathered from a total of five million hectares of planted area," Chin said.

While the evaluation process is being carried out, new applications for biodiesel licences will be put on hold. "As I have said before, the freeze is temporary. We need to be thorough in processing all those applications, and that can take some time," Chin said. Asked how soon the Government would lift the freeze and start accepting biodiesel applications again, he said: "Hopefully, by the end of the year, when we've built up a comprehensive evaluation of the various downstream activities in the palm oil industry."




Out of land



Malaysia says it's almost run out of land suitable for new plantations of the crop, and it'll need to raise productivity of existing trees if it's to tap rising demand.

``In terms of land that is suitable for palm, there's not much left,'' Minister for Plantation Industries and Commodities Peter Chin Fah Kui said. ``As a result, our strategy is to increase the productivity and yield from whatever plantation land that we have now.''

The Southeast Asian nation, together with its neighbor Indonesia, is rushing to boost palm oil production and exports amid rising demand for biofuels. Crude oil prices have tripled since 2002, driving up the cost of diesel and gasoline, and making alternative sources of energy more competitive. Palm oil has traditionally been used as a cooking oil or in soaps.

``There's just not enough land to plant in Malaysia,'' said Alvin Tai, analyst at OSK Research Sdn. in Kuala Lumpur, who has an ``overweight'' rating on the plantation sector. ``At the end of the day, there's no other way but to expand overseas.''

Palm oil prices climbed last month to their highest in more than two years, spurred by increasing sales to China, the U.S. and Europe. Palm oil prices on the Malaysia Derivatives Exchange, which have risen 13 percent in the past year, gained 1 ringgit, or 0.1 percent today, to 1,564 ringgit ($429) a metric ton.



`No Other Choice'



Malaysia wants existing palm oil plantations ``to produce as much as we can in terms of productivity and yield, and that is the only way we can'' raise output, Chin said in an interview in Kuala Lumpur yesterday. ``We have no other choices.''

The country, which also has extensive rubber plantations, has a land area of 328,550 square kilometers (126,853 square miles), according to the CIA World Factbook. That's about the same size as Germany or the U.S. state of New Mexico.

Biofuel can be made from vegetable oils obtained from crushing palm fruit, rapeseed and soybeans, or from animal fat. The plant-based fuel, known as biodiesel, can be mixed with fossil fuel to stretch regular supplies.

Malaysia boosted the total cultivated area of palm by 3 percent this year to 4.2 million hectares (10.4 million acres) compared with last year's gain of 4.5 percent, according to the government's 2006/07 Economic Report, released Sept. 1.

Some 90 percent of the total area was covered with mature palms, said the report, an annual assessment of the economy that's released with the budget. No estimate was given for palm coverage next year.




Rising Yields



Palm oil yields -- measured in tons of fresh fruit bunches per hectare -- were forecast to rise 0.6 percent to 19 tons this year, after gaining 1.6 percent in 2005, the report said. The oil is made by crushing the plum-sized fruit from the tree.

``Palm oil prices will continue to go up in the next few years,'' Chin said, without naming his own target. ``Most analysts will say that palm oil would be in the region of about 1,650 to 1,700'' ringgit a ton over the next year or two.

The global supply of biofuels will probably almost double in the next five years as new plants start production, according to the International Energy Agency, an adviser to 26 oil- consuming nations. Fuel output from vegetable oils worldwide is expected to triple by 2008, with most of the growth in Europe, the Paris-based agency, which analyzes energy-market trends, said in July.

The Malaysian government forecasts the country will produce 15.6 million tons of palm oil this year, 4.3 percent more than 2005, and export 14 million tons, 5.1 percent more than last year, according to the 2006/07 Economic Report.




Export Target



Chin said exports would rise to 14.8 million tons in two or three years. That's little different from next year's target of 14.6 million tons listed in the report.

Prices would average 1,500 ringgit a ton this year, 7.6 percent higher than 2005, and may gain a further 10 percent to 1,650 ringgit in 2007, the report said. Palm oil is Malaysia's largest source of export earnings.

``There's not enough supply,'' Chin said. ``There's no fear that we'll produce too much.''

Malaysia wouldn't face competitive pressure in the palm oil market from Indonesia, Chin said. The two countries, which together produce 80 percent of global supply, agreed in July to set aside 6 million metric tons each of crude palm oil a year for biofuel production.

``Even if Indonesia were to produce much more than what it is doing now, I think there's not a problem of competition,'' Chin said, adding the two would try to support prices together.

``We're not talking about a cartel or anything like that,'' Chin said. ``We hope that over the years to come we will be able to manage the supply of palm oil in a reasonable way.''




More information:


Business Times Malaysia: Companies told to build biodiesel plants in set time
- September 7, 2006

Bloomberg: Malaysia Almost Out of Land for New Palm Oil Estates - September 6, 2006