We have often hinted at the job-creation potential of the nascent biofuels industry in the developing world. The production of bioenergy is labor-intensive and holds promise for social development in some of the world's poorest regions. But how many jobs are we talking about exactly? And how does the production of bioenergy compare to other energy production technologies when it comes to the generation of employment? Drawing on many previous studies, we made a rough comparison.
The field of 'energy economics' is quite complex as it requires insights about a wide range of scientific disciplines, notably physics, technology, economics and sociology. With this cross-disciplinary approach it is possible to compare different energy technologies and their life-cycle efficiency, their economic potential, or their social impacts.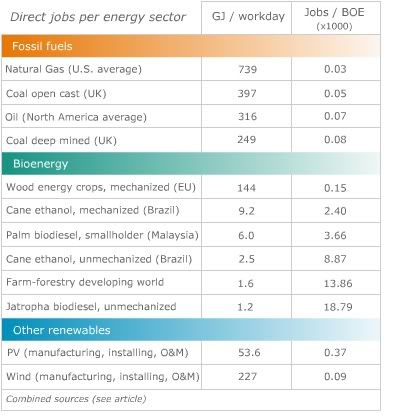 We did the exercise of comparing and compiling several comprehensive studies that analyse the number of jobs generated by different energy sectors: the fossil fuel sector, the bioenergy sector and the sector of non-biomass related renewables. The results [table 1] are very rough, but nonetheless indicative of the potential.
Our method to arrive at these results consisted of taking a base methodology (found in a majority of the studies) and converting the results of studies that used different approaches to the base methodology. The final results were expressed in the number of direct full-time jobs (245 workdays of 8 hours per year) generated per megawatt-hour of electricity delivered or per gigajoule of usable energy (either in liquid, gaseous or solid form). For the sake of clarity, we brought the results back to one denominator, namely "jobs generated per thousand barrels of oil equivalent (BOE) produced". The table can thus be read as follows: for each 1000 barrels of oil produced, 0.07 jobs are created; when you produce the same amount of energy in the form of ethanol based on sugarcane as a feedstock that is harvested manually, you create around 9 full-time jobs; the process of manufacturing, installing and operating wind turbines that generate a similar amount of useable energy, yields slightly less than one tenth of a full-time job.
But let us first nuance and clarify the methodology, after which we can discuss the implications of the results:
biofuels :: energy :: sustainability :: social sustainability :: development :: jobs :: employment ::




Studies focusing on direct jobs only


We only compiled the number of 'direct jobs' generated. This excludes both 'indirect' and 'induced' jobs, as they are often found in 'input-output' (I-O) economic models. I-O models examine economic relationships in state and national economies, and determine the impact of a certain amount of renewable energy development on jobs and revenues. But I-O models do not break down renewable energy jobs by specific tasks, as several of the studies we used, do. This makes it easier to delineate between direct, indirect and induced jobs.
But the division remains largely arbitrary. For example, for bioenergy we used studies that only took into account the 'agricultural' process per se (planting, fertilizing, weeding/pruning, harvesting), the logistical chain for transporting and storing the harvested biomass, and the final conversion into useable energy (either as a liquid fuel or as biomass-for-electricity or both). We left out the number of jobs generated in the manufacture, installation, operation and maintenance of conversion plants (e.g. sugar mills or ethanol production plants), nor in those generated by co-product streams, even though these offer a considerable amount of jobs (for example, we left out the jobs generated by the production, treatment, distribution and sales of glycerine, an important by-product of biodiesel production). The problem is that for other technologies (such as photovoltaics), the chain of added jobs looks entirely different, making detailed comparisons difficult.
Socalled 'induced' jobs were left out of the compilation as well. These are jobs that are created when those who are (in)directly employed in the sector (e.g. biomass harvesters) boost a local economy which leads to more employment in entirely unrelated sectors.
Nonetheless, it was possible to create a rough comparison, based on looking at the methodologies used by the studies, which allowed us to divide the estimates into classes (direct, indirect and induced jobs), and comparing those.



Biomass and its many possible uses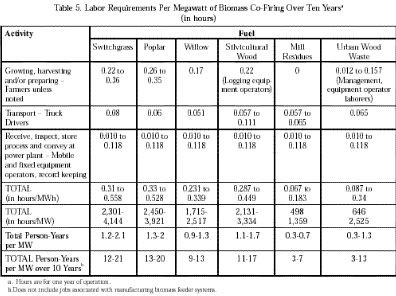 "Biomass" can be converted into usable energy via many different processes and technologies. It can be turned into liquid fuels for transport, or into gaseous and solid fuels for the generation of electricity. Moreover, this conversion yields many different by-products that have markets of their own, and for which new markets are being developed (e.g. glycerine from the production of biodiesel has just entered the poultry feed market as a high value feed). In the future, "biomass" will be the feedstock for integrated "biorefineries" that yield much more than only fuels or power. For the time being, though, we did not take the number of jobs generated in these new markets for biofuel by-products into account.



Labor productivity for biomass energy production






A compilation of studies of labor productivity for biomass energy production in the developing world (Stockholm Environment Institute, 2001)

.





The studies we used


The following is the list of existing studies that estimate the number of jobs generated in different energy sectors. Even though most of this research shows surprisingly consistent results, there obviously are differences accross studies, depending on the number of samples used by the researchers, the methodology and the time at which the research was carried out. The latter is an important factor, since productivity increases over time, often resulting in fewer jobs for a particular sector over a particular period of time. This is most obvious in the coal sector, which has seen a steadily increasing production of coal over the last decades, but a serious decline in employment. Notwithstanding these differences in results, the studies did allow us to compile rough estimates. We used the following reports, which must be seen as 'meta-studies', because their results are based on comparing and compiling prior research:

:: United Nations Convention on Trade and Development (UNCTAD): BIOFUELS - ADVANTAGES AND TRADE BARRIERS, Prepared by: Suani Teixeira Coelho UNCTAD/DITC/TED/2005/1 - 04/02/05; see pages 7 - 8.

:: Daniel M. Kammen, Kamal Kapadia, and Matthias Fripp (2004), Putting Renewables to Work: How Many Jobs Can the Clean Energy Industry Generate? [*.pdf]

:: Goldemberg, J. (2002) The Brazilian energy initiative—support report [*.pdf]. Paper Presented at the Johannesburg 2002 World Summit for Sustainable Development. Secretaria de Meio Ambiente, São Paulo (The Brazilian São Paulo State Environmental Secretariat)

:: Sivan Kartha and Gerald Leach (Stockholm Environment Institute, 2001), Using Modern Bioenergy to Reduce Rural Poverty [*.pdf]

Added to this, we asked several major biofuel companies active in the developing world to estimate how many jobs their projects yield, on a per hectare and 'per joule' basis. We then compared those estimates to independent research and calculated a rough average.
We received personal communications from (1) a major international biofuel production company involved in jatropha plantations in the South (South Africa, India, Philippines), (2) from a major oil palm plantation company active in Central-Africa and (3) from a company with biofuel production activities (using a grass species for biomass) in the Philippines. We wish to thank these companies for their participation.

In a later article, we will be looking at what this comparison really means. Because things are more complex than they look. Yes, bioenergy promises to bring many jobs to places where unemployment is a problem. But from the results we can also conclude that for some biofuels labor is the single most important cost factor in the production process, meaning that you need a pool of "cheap labor" in order to keep these fuels competitive. Some energy crops need so much of this cheap labor, that one can begin to wonder where social development ends, and exploitation begins. We will focus on these questions at a later time.