Quicknote bioenergy crops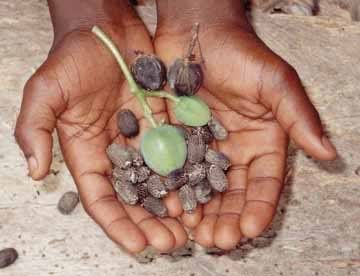 The Namibian, Windhoek
. The first container of Jatropha seed arrived in Namibia last week so that planting for a future biodiesel project can take off.
Jatropha curcas
is an alien shrub that has spread to southern Africa over the past century.
Its fruit contains a sought-after oil, which can be used in diesel engines to replace conventional fuel, and also for soap-making. The Namibia Agronomic Board recently commissioned a study for a project to plant 63 000 hectares of Jatropha on communal and commercial land over the next few years.
The sealed container was officially opened by representatives of the Ministry of Agriculture for sample taking at the Agra premises in Windhoek, according to Birgit Hoffmann, Senior Marketing Manager of Agra. The company is the sole distributor for Jatropha seed.
Agra agronomist Francois Wahl says he will showcase the seed at the Agra stand during this year's Windhoek Show, which starts this weekend. After the show, the seed will be available for sale at Agra branches countrywide.
The cultivation of Jatropha to produce biodiesel has already proven successful in Zimbabwe and some South American countries. The Jatropha plant requires very little water for survival; hence Namibia's arid climate seems to be suitable. A yield can be expected with as little as 300 mm of rain a year. Jatropha is not eaten by livestock because of its toxicity and hedges are grown around homesteads in rural Namibia to keep animals out. While irrigation is required during the first two years, the plant already starts to bear fruit after the second rainy season. The fruit is harvested in winter when the shrub is leafless [entry ends here].
biodiesel :: biomass :: bioenergy :: biofuels :: energy :: sustainability :: jatropha :: Namibia ::