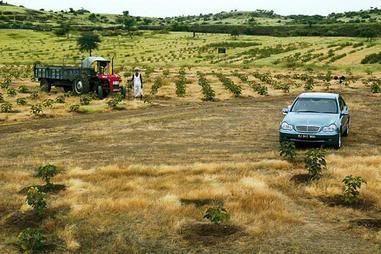 Two C-class Mercedez Benz cars ran 6000 kilometres accross India, on pure jatropha biodiesel
The
Central Salt & Marine Chemicals Research Institute
(CSMCRI), a small research body in Bhavnagar (Gujarat, India) was one of the first in India to extensively test jatropha based biodiesel in standard cars. When it began doing so in 2002, none of the big international or Indian car makers seemed interested, with the exception of German giant Daimler-Chrysler which decided to cooperate and set-up a
pilot project
together with the institute (more on this project
her
e).
In 2004, two C-class Mercedes Benz cars completed nearly 6000 kilometres on 100% jatropha-biodiesel, without engine modifications. The project included an epic journey into the Himalayas to test the fuel's properties in harsh and cold weather conditions. The results were conclusive and promising: the cars emit 70 per cent less hydrocarbon, 80 per cent less particulate matter and sulphur, the fuel acts as a natural lubricant for the engines, and is safer than fossil diesel because of the much higher flash point of jatropha diesel (170° compared to 50° for fossil diesel); it withstands freezing temperatures easily. Endurance tests with tractors, generators and a Toyota Qualis further revealed that the B100 fuel's properties are superior to ordinary diesel and makes engines last longer.
Importantly, all the tests were carried out with 100% biodiesel and without engine modifications. This is why, according to Pushpito Kumar Gosh, director of the Institute, blending biodiesel with fossil diesel serves no purpose. Mr Gosh thinks the Indian government should concentrate on cultivating more Jatropha plants and 'jump' ahead to B100 rightaway.
The Institute's success has had predictable effects: today all major Indian car manufacturers (Tata and Hindustan), together with General Motors are now
knocking on the CSMCRI's doors
. A meeting between GM and the Institute is planned to take place next month. India is one of the world's fastest growing car markets, and a leader in jatropha cultivation, which forms part of its ambitious
biofuels program
. A recent mass campaign resulted in 3 million jatropha seedlings being planted in Chhattisgarh in one single day (see
previous post
) [entry ends here].
biodiesel :: biomass :: bioenergy :: biofuels :: energy :: sustainability :: jatropha :: India ::