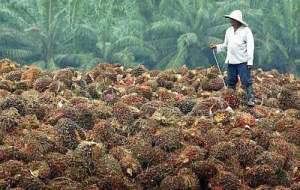 In the developing world,
biofuels mean jobs
. Earlier, Indonesia already
hailed its biofuel program as a strategy to alleviate poverty
, but remained vague about the actual number of jobs it will bring. Today, the Indonesian government became more concrete and announced that its
green energy crash program
will generate 2.5 million jobs in under three years time. For a country with mass unemployment and poverty, this is indeed a great boost.
As part of an expanded poverty alleviation campaign, the Indonesian government would prioritize
two programs
to reach the goal of creating 15 million jobs before 2010: 'people empowerment' and 'biofuels'. Coordinating Minister for the People's Welfare Aburizal Bakrie, claims that the 'people empowerment program' had actually been running since 1998 in 34,200 villages across the country. The program is expected to generate jobs for 12.5 million people, assuming each project will absorb 250 people in a specific area for three years, said Aburizal. "The projects work, but we need to extend them to 50,000 more villages by 2009," he said after a cabinet meeting Thursday. "The types of projects are determined based on local conditions."
The remaining 2.5 million jobs are expected to come as the government opens plantations to support its biofuel program. Critics have called the anti-poverty projects ineffective, pointing to the steady rise in the number of poor people over the past few years. But Aburizal said that without the programs, poverty rates would have been even higher. "We hope that the coordination between the relevant Cabinet ministers can go better. We have agreed that 20 percent of the total state budget allocated for poverty alleviation will go to these two programs," he said.
The government has increased next year's poverty alleviation budget to 51 trillion rupiah (€4.4 billion/US$5.6 billion ), from 43 trillion rupiah (€3.7billion/US$4.7 billion) in 2006 [entry ends here].
ethanol :: biodiesel :: biomass :: bioenergy :: biofuels :: sustainability :: social justice :: jobs :: Indonesia ::