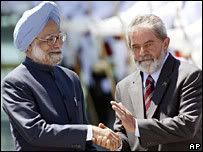 On the eve of the first India Brazil South-Africa (IBSA) Summit that is kicking off in Brasilia today, India and Brazil have taken their bilateral relationship to a new high with the
signing of nine key pacts
, including two agreements and seven Memoranda of Understanding (MoUs). The multi-million dollar trade and investment deals are aimed at improving co-operation between the two major emerging economies. The meeting is signalling a shift in global power relations with the South gaining more prominence. Brazilian President Luiz Inacio Lula da Silva - who can be situated on the left of the political spectrum - said strengthening ties formed part of a vision to create a more just economic world order.
The two agreements signed included one on promoting air services and another on cooperation in the field of science and technology. But us interests
the energy pact
the two sides inked. This pact is aimed at facilitating cooperation in energy research, development and diversification, with the aim of providing more efficient, affordable and cost effective energy technologies. Under the accords, both countries formed a Joint Biofuel Committee to look at more efficient, cheaper and green energy sources.
Several Indian companies have already evinced interest in exploring production opportunities in Brazil to meet the anticipated growth in ethanol, a substitute of oil taken out from sugarcane, which is used in India both for industrial and automobile use. And the Indian government suggested it would be interested in investing in Brazilian sugar cane land and production, in order to diversify its portfolio of energy sources:
ethanol :: biodiesel :: biomass :: bioenergy :: biofuels :: energy :: sustainability :: Brazil :: India ::

"Our bilateral trade has grown in the last five years. From a mere 500 million dollars in 2002, trade between our two countries has increased five-fold to reach 2.5 billion. We are hopeful of further rapid expansion in our bilateral trade in the coming years. Implementation of the India-MERCOSUR PTA and the proposed deepening and expansion of our trade relations in the framework of IBSA will be important steps in that direction," Prime Minister Dr. Manmohan Singh stated in his joint interaction with the media with President Lula Da Silva.

Further it was also agreed that both countries would station defence attaches in each other's capitals (New Delhi and Brasilia) and establish a joint defence committee as per the defence agreement of 2003. India and Brazil also resolved to stand together to fight against international terrorism. UN reforms and the framework of the G-4 also figured high on the agenda.

"India and Brazil have a long tradition of cooperation in the international for a, including on global trade and economic issues," Dr. Singh said, adding, "We have worked together in the WTO and are both united in our desire for a successful conclusion of the Doha Round of negotiations."

The Doha Round recently collapsed over EU/US agricultural subsidies. Bioenergy and biofuels played a major role in the collapse.

"We have been partners in the G-4 efforts to work towards expansion of the permanent membership of the UN Security Council," Dr. Singh further said.

Under the MoU signed on conducting "Weeks of Indian Culture in Brazil and Weeks of Brazilian culture in India", the two sides announced that they would shortly be opening cultural centres in Sao Paulo and New Delhi. Promotion of people-to-People contact and the forging of institutional and academic linkages in a systematic manner were also discussed.

Attaching great importance to his visit to Brazil, Dr. Singh said: "It is indeed a pleasure and privilege to visit this beautiful country. I would like to thank President Lula for the extremely gracious reception and hospitality. My visit to Brazil is after a 38 year-old hiatus since the last visit by Prime Minister Indira Gandhi. The significance of this bilateral visit is further enhanced by the holding of the first IBSA Summit, which would be taking place tomorrow (Wednesday)".

Other pacts signed were in the fields of human settlements and plant health protection, pacts between the Bureau of Indian Standards and the Associacao Brasileira De Normas Tecnicas (ABNT), Petrobus and ONGC-OVL, Bharat Earth Movers Limited and Compania de Comercio e Construcoes (CCC).



More information:



BBCNews: Brazil and India strengthen ties - sept. 13 2006
The Financial Express: IBSA forum to witness major eco cooperation - sept. 13, 2006
SABCNews: IBSA summit hailed as emerging trinity - sept. 13, 2006