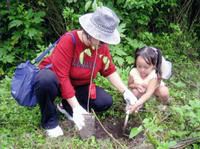 Not long ago, India set a 'world record' when
thousands of people planted some 3 million jatropha seedlings for energy in one single day
. Now in a massive tree planting
campaign
, hundreds of thousands of Filipinos showed up to do something similar, and planted some 800,000 seedlings of native trees alongside the country's three major highways.
The "Green Philippine Highways" (GHP) project is aimed at cutting carbon dioxide emissions from the country's rapidly growing transport sector. To mitigate the greenhouse gas emissions of one single car, around 10 trees are needed.
On the morning of 25 august, nearly a million Filipinos signed up, including members of 4,414 organizations, to plant acacia, narra, mahogany, banaba and other native tree species all over the archipelago - "the biggest number of trees planted at one time in the history of the world," President Gloria Macapagal Arroyo said in a speech after launching the project.
The Philippines' environment minister Angelo T. Reyes expressed optimism on the success of the GPH project, noting that commitments of support have been snowballing from a broad spectrum of Philippine society such as the religious, academe, civil society, local government units, business sector, and even the police and military. The program takes on the concept of "adopt-a-tree" where communities and organizations look after and nurture the trees at specific sites for at least three years, the minimum period needed by a growing tree to reach maturity on its own.
Like the principle behind the hand water pump, Reyes explained the ultimate aim of the program is to pump prime a momentum that would spur participating communities into making the planting and growing of trees as a way of life at community and personal levels: "The program's character, being apolitical and yet full of socio-economic implications, is the basic factor that makes these diverse groups gravitate to each other under a common goal for clean air as embodied by the presence of trees," Reyes said.
Studies show that 70 percent of pollutants in the country's air come from vehicle emissions and 30 percent comes from two other land-based sources namely fossil fuel-burning facilities (factories and power plants) and construction sites. There are presently around five million registered motor vehicles in the country, of which 31 percent or around 1.55 million are in Metro Manila. A single tree can sequester about 0.56 metric tons of carbon dioxide in its lifetime, and around 10 trees are needed to capture the emissions of one car. Thus, it needs about 50 million trees to contain air pollutants emitted by motor vehicles in the country.
More information:
Philippines Dept. of Environmental & Natural Resources:
Green support for GPH
- Sept. 6, 2006
Bayanihan:
Hundreds of thousands participate DENR's Green Philippine Highways
- August 25, 2006
Environmental News Network:
Philippines Hopes to Break World Record with Mass Tree-Planting
- August 25, 2006
biomass :: bioenergy :: sustainability :: climate change :: CO2 :: trees :: carbon sinks :: Philippines ::