Quicknote South South Cooperation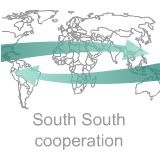 We are fascinated by practical South-South exchanges, and the field of bioenergy and biofuels is one where the sharing of experiences, knowledge and technology between developing nations is really speeding up.
Ghana has just recently
announced
that it would tap the expertise of Thailand in the large-scale production of biofuels for national consumption, vice-president Aliu Mahama said during a visit to Bangkok. He said that although Ghana had set in progress the development of biodiesel, the stride Thailand had made by way of research would illuminate the path of Ghanaian researchers.
Vice President Alhaji Mahama made this known during a visit to the palace of the King of Thailand, His Majesty Bhumibol Adulyadej (a staunch and long-time advocate of green energy, who has even patented his own biodiesel production process). His remarks followed the announcement by the Deputy Director of the
Royal "Chitralada" Projects
, Ms Rosarin Smitabhim that the Asian State would be switching to the use of biodiesel and gasoline next year.
She said currently the official vehicles of the King were being powered solely by biofuels. The Royal projects include a solar energy system that could serve a large area of Bangkok, the use of rice chaff for charcoal production, recycling of used household oil for soap and the manufacturing of candles from bee wax.
There are also experimental rice fields, fruits and vegetable processing factories, medicinal plant garden and conservation of plant genetic resources.
Ghana's vice-president Alhaji Mahama described the projects as "excellent" with the potential of providing rural communities with income generating ventures. He said the government would send a delegation to understudy the projects to replicate them in Ghana. In a related development, Mahama held a meeting with Mr Sompong Amornvivat, Thai Trade Representative in Bangkok, to fine-tune discussions on bilateral trade and commerce relations. Mr Amornvivat said an agreement would also lead to technical cooperation, adding that he would pay an official visit to Ghana in September, 2005 to strengthen the bilateral talks. Mr Akwasi Osei-Adjei, Deputy Minister of Foreign Affairs, Regional Cooperation and NEPAD, said Ghana was ready to offer would-be Thai investors Investment Protection Agreement packages and relief from double taxation.
ethanol :: biodiesel :: biomass :: bioenergy :: biofuels :: sustainability :: south-south :: Thailand :: Ghana ::