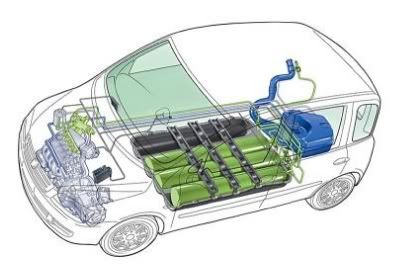 We have hinted many times at the attractiveness of biogas (methane) as a car fuel for the developing world. It is in the Global South that the future of mobility is determined. From today until 2030, 80% of the world's fuel demand will come from the developing world, and 70% of all new car sales will occur there as well. Nobody can deny the emerging middle class in the South to want cars (as some in the West do), after all, they are the true sign of mobility in all its senses (social as well as economic mobility). But what we can wish for, is to see that this highly dynamic and huge market makes the right decisions and 'leapfrogs' into a greener, cleaner and more sustainable future.
Italian maker Fiat, which has been building flex-fuel (ethanol) cars in Brazil for a long time, has shown
two compact cars in Paris
that are further evidence of its concern for environmental protection. They are attractive to the rising middle classes in many developing countries, because they are highly efficient, affordable, compact and multi, multi, multi flex...
The Panda Panda extends the range of Fiat's bi-fuel cars that run on either gasoline or methane (biogas). But it is the 'Multipla Multi-Eco' concept car that interests us most. It combines an innovative powertrain architecture, consisting of an engine that can run on three different fuels, namely gasoline, biogas, and a self-determined mixture of gasoline and ethanol. The car moreover uses environmentally friendly materials (bioplastics and biopolymers that are recyclable) both for the interior as well as for the exterior of the car.
The Multipla Multi-Eco concept car exploits the potential of Tri-fuel technology combining petrol, a mixture of petrol and ethanol (E85) and methane (petrol/E85 dual fuel systems are normally termed Flex fuel systems). E85 is a mixture made up of 15% petrol and 85% bio-ethanol.
This is how it works: the bio-ethanol and the petrol are poured into the same tank; a feature that makes it easier for motorists to refuel. The engine software monitors the mixture and alters the injection properties accordingly in fully automatic manner. Flex engines are able to work in the same way and with the same performance using both conventional fuel and natural alcohol-based fuels. The option of switching from E85 to methane certainly represents a new alternative for sustainable mobility for city and rural driving because the methane reduces CO2 emissions while cutting polluting PM and NOx (urban pollution) to zero, while ethanol considerably reduces CO2 emissions. The Multipla Multi-Eco Concept Car is created through the experience of Fiat Brazil in the field of innovative power units able to run on different fuels in any proportion.
This car is highly suitable for the developing world for several reasons:
in the South, ethanol can be produced competitively from abundant feedstocks (unlike in the US or Europe, where ethanol is not competitive and needs subsidies)

biogas is also widely available and can be produced from any biomass waste stream

moreover, both fuels can be produced and distributed in a decentralised manner, which means cutting transport costs and cutting dependence on outside market forces
Fiat's 'Panda Panda' is interesting as well, for it too works on biogas and has a long range. Smart, practical, fun and environmentally sound: these are the distinctive features of the 'Panda Panda', the new minimum environmental impact vehicle equipped with a 52 bhp 1.2 engine with a dual petrol/methane fuel system:
ethanol :: bioenergy :: biofuels :: energy :: sustainability :: multi-flex :: bi-fuel :: tri-fuel :: biogas ::


This original Natural Power sets out to become the new benchmark in the sustainable urban mobility vehicle scenario. The Panda Panda is also even more innovative because it overcomes the drawbacks typical of methane cars. The floorpan, derived from the 4x4 version, incorporates two separate methane tanks, each with a capacity of 72 litres. The two tanks fitted in this way allow the same amount of room as on the original car for both passenger and luggage (more than 200 litres with the rear seats upright).

The 72 litre capacity allows a superior trip range that is about 300 kilometres using methane alone (20% more range than that offered by the Fiat Punto, for example). The fuel tank capacity remains unchanged compared to the petrol version (30 litres) thus ensuring peace of mind even where methane suppliers are thin on the ground.

The 'Panda Panda' confirms Fiat's leadership in the methane sector and its continuous quest to find solutions that reconcile customer needs with the greatest respect for the environment. Methane vehicles reduce CO2 emissions by approximately 23% compared to the equivalent petrol vehicles and reduce particulate matter (PM) emissions to practically zero. Emissions when the car is driven in methane mode amount to 114g of CO2/Km compared to 133g of CO2/Km in petrol mode (NEDC cycle).

The Panda Panda will also be available with a Dynamic specification to ensure that even the basic version of the car is packed with creature comforts and may be customised on the basis of individual requirements. The new Panda version is also ideal for small company fleets since it can be driven around freely in any city centre.