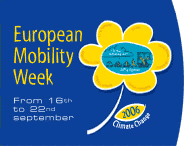 European citizens have become very aware of the global problems of energy security (with all the political ramifications this entails), dangerous climate change and global sustainable development. They show their awareness by actively participating in a myriad of pan-European initiatives, be it the
"You control Climate Change"
campaign, the
"Sustainable Cities"
initiative, or the
European Mobility Week
, which has just started.
From 16th to 22nd September 2006 European citizens, young and old, will have the opportunity to enjoy a full week of events dedicated to sustainable, soft, clean and green mobility in hundreds of
participating cities
across the Union. Cities in Japan, Ecuador and Thailand show their solidarity and join in. The objective is to facilitate widespread debate on the necessity for changes in our behaviour in relation to mobility and in particular the use of the good old dirty, inefficient private car. As usual, the Car Free Day will be the highlight of the whole Week.
A series of events, debates and campaigns are organised around themes such as the development of
"greenways"
(for non-motorised vehicles, e.g. reclaiming old railroads and turning them into bicycle paths),
responsible car use and the urgent need for the adoption of clean vehicles
,
simply cycling
, car pooling and car sharing, systems and steps to save on fuel, "give the car a break" activities, bicycle sharing projects for liveable cities,
public transport and disability
, the concept of
congestion charges
(with the so-called
Stockholm Trials up for debate
), and so on.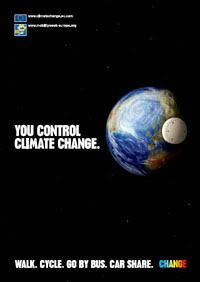 The
central theme of the Mobility Week is dangerous climate change
, probably the biggest threat and challenge the world is currently facing. For European citizens, the threat is ever more apparent, and the critical debate has moved all the way from academia past the public sphere and into the household. The "Disaster Years" as 2003, 2004, 2005 and 2006 are now called showed record heat waves in Central and Western Europe in 2003, 2004, 2005 and 2006, record floods in Eastern and Central Europe last year and this year, record forest fires damaging a record number of hectares in 2004, 2005 and 2006 in Southern Europe, and record droughts this year in South-Eastern Europe. These disasters have had a unifying effect with European citizens sharing the feeling that
'the debate is over'
and that drastic action must be taken:
biofuels :: energy :: sustainability :: mobility :: climate change :: European Union ::
The European Mobility Week is a EU-Commission initiative. The reasons for the focus on dangerous climate change are easy to understand:

1. Coherence with European Policies: Climate change is currently one of the main topics of European environmental and energy policies, the review of the European Climate Change Programme is underway, the Thematic Strategy of the Urban Environment, to be published these days, puts a strong emphasis on transport and (hopefully) refers to climate change, the European climate change campaign coming up in 2006,...

2. Relevance: The year 2005 was named as "Year of Disasters" by the World Meteorological Organisation. Never before, national, regional and local levels were so aware of climate change and that they will have to act, each level according to its means. Also never before, climate change had such a presence/response in media, scientists now dare for the first time to affirm that what we are observing now is definitely due to mankind's activities, ...

3. Need for action: Kyoto targets are recognised to be an important, but only a first step. Much more will have to be done and it is clear that more ambitious targets for the Post-Kyoto period have to be adopted (main outcome of Montreal UNFCCC Conference). All other policy levels have also admitted that current policies are by far not enough and that more stringent policies have to be developed. Especially for the local level, consultation with stakeholders and citizens (Local Agenda 21), European Mobility Week could be the occasion to take this up.

4. Fulfilment of Art.6 of the UNFCCC: In Article 6 of the United Framework Convention on Climate Change, the Parties committed themselves to undertake education, training and public awareness raising on climate change. European Mobility Week 2006 would be a perfect occasion for the Member States to contribute to the fulfilment of this article.

Enjoy the ride.



Resources:



::
European Environment Agency.

::
Local Governments for Sustainability.

::
Intelligent Energy Europe initiative, converts EU policy for smart energy use and more renewables into action on the ground, addressing today's energy challenges and promoting business opportunities and new technologies.

::
Sustainable Energy Europe campaign, EU campaign to raise public awareness and change the landscape of energy.

::
The European Joint Research Centre's Institute for Environment and Sustainability

::
International Association of Public Transport

::
Transport website at the EU Directorate-General for Energy and Transport.

::
Managenergy - European public awareness on energy agency

::
CIVITAS - Cleaner and Better Transport in Cities in Europe
::
Energie-Cités: network of European local authorities which promotes energy efficiency, renewable energy, distributed generation and sustainable mobility.
::EU Transport Research and Transfer of Knowledge Centre - The Centre provides a library of significant findings underpinning policy developments in transport.
::ELTIS: European Local Transport Information Service - aims to support a practical transfer of knowledge and exchange of experience in the field of urban and regional transport in Europe and so help create a more sustainable living environment, one which provides greater accessibility and mobility to its inhabitants.
::The EMOTIONS web site contains practical examples of activities and campaigns to illustrate the emotional approach in promoting clean urban transport.