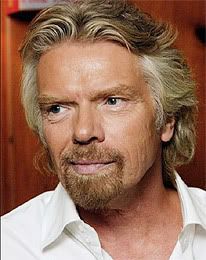 We already knew that Richard Branson was interested in biofuels, when he
said
that he thinks all his "Virgin" airplanes will fly on green fuels by 2020. But now the billionaire serial investor made his previous suggestions concrete and
launched an investment fund for environmentally friendly fuels
. Branson says the new "Virgin Fuels" business will invest up to $400m (€315.6m) in renewable energy initiatives over the next three years. With his biofuel initiative, he follows in the footsteps of
Bill Gates
, the
Google Boys
and
Vinod Khosla.
The first deal saw Branson back California-based Cilion, which was formed in June and will make bioethanol from corn. Cilion plans to build seven plants by 2009 with a total of 440 million gallons per year capacity (roughly 20,000 barrels of oil equivalent per day). The first three ethanol plants are expected to be in California.
Branson said it was important that transport groups such as airlines and train operators were at the forefront of developing environmentally friendly fuels. Other investors in Cilion include Silicon Valley entrepreneur Vinod Khosla and Los Angeles billionaire Ron Burkle. California is on an environmental crusade led by state governor Arnold Schwarzenegger to produce more of its own biofuels, which it already uses to fuel cars.
Most of the fuel is imported from the American Mid West and earlier this year the actor-turned-politician called for California to make a fifth of the fuel it uses by 2010. Sir Richard said: "This is a very exciting investment for Virgin and the new company will make a substantial contribution to meeting Governor Schwarzenegger's goal as stated in his recent executive order, calling for California to produce a minimum of 20% of its own bio-fuels by 2010."
He added: "We do not intend to limit ourselves to US bio-fuels as we believe that transportation companies have a responsibility to lead and fund research and development of new bio-fuels that can be produed, distributed and used with greater positive environmental impact than the current technologies used in the production of bio-fuels. "This is only the beginning of our investment programme which begins in the US and will expand to the UK, mainland Europe and other parts of the world."
More information:
Bloomberg,
Branson to Invest $400 Million in Renewable Energy, Biofuels
- Sept. 10, 2006.
The Guardian,
Virgin pumps £214m into 'green' fuel initiatives
- Sept. 10, 2006.
Irish Examiner,
Branson launches $400m eco-friendly fund
- Sept. 10, 2006.
ethanol :: biodiesel :: biomass :: bioenergy :: biofuels :: energy :: sustainability :: Virgin :: Branson ::