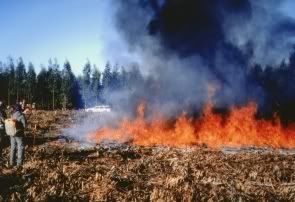 The availability of huge residue biomass streams that result from forestry, agroforestry and horticultural activities is rapidly becoming a major source of energy. In India, Dr SS Verma of the
Sant Longowal Institute of Engineering and Technology
is
developing
a new bioconversion concept to transform this bulky biomass into fuels in an efficient manner. By bringing the factory to the forest, instead of the forest to the factory, 'biomass-to-liquids' production becomes much more economical.
Woody waste consisting of loggings, chips, leaves, plant residues, and cuttings is known as "slash". Piles of such slash are becoming a common sight everywhere near plantations and in cities and towns all over India. No doubt forests and plantations are the need of the hour in order to combat dangerous climate change. But safe disposal of slash is turning to be a problem.
Earlier, this waste was consumed or managed judiciously by the owners who used it as a biofuel for cooking or as animal fodder or building materials. But the changing life-styles of people not only in cities but more and more in villages as well, creates a situation where nobody any longer make use of these biomass waste streams in an efficient manner. To the extreme, in some parts of India farmers are simply burning the agricultural crop residues which creates air pollution and even changes regional climatic patterns (fine sooth particles in the atmosphere contributing to
'global dimming'
, and affecting monsoon patterns), and most notably contributes to global warming via CO2 emissions.
Treatment of woody plant residues created during forestry, agroforestry and horticultural activities is also important to achieve other environmental objectives like reducing the risk of the spread of harmful insects and diseases, protecting and maintaining air quality by reducing the risk of wildfires and forest fires, improving access to forage for grazing and browsing animals, enhancing aesthetics, improving soil organic matter, improving sites for natural or artificial regeneration and so on.
Green factories in the forest
Current slash treatment methods do not achieve these objectives and do not protect land and water resources. The problem has been that forest slash is bulky, low-density biomass material usually located in remote logging areas. This abundant, essentially free biofuel feedstock is too expensive to collect and transport particularly if the nearest refinery is more than 100 kilomtres away. It doesn't take long before the cost of trucking exceeds the value of the biomass. But now there is a new and easy to understand concept being developed to overcome this problem:
biomass :: bioenergy :: biofuels :: energy :: sustainability :: fast-pyrolisis :: bio-oil :: biomass-to-liquids :: biorefinery ::

Advanced biorefinery concepts simply flip the problem on its head by taking the machine to the biomass as opposed to the biomass to the machine. A portable plant might make it economical to transform huge amounts of logging "waste" into a usable form of energy--right in the forest. Several companies, amongst them a Canadian and most notably a German consortium of companies and research institutes have developed an economical way of turning slash into a carbon-neutral liquid fuels for power generation and chemical production. Their approach is built around a modular, quick-to-assemble fast-pyrolysis plant that can follow logging companies into the bush and directly convert their leftover trimmings into clean-burning renewable bio-oil, which can be used as a heavy fuel oil in forestry machinery or the high density can be transported economically to a more centralised bio-refinery, where it becomes the feedstock for a whole series of bio-materials, green specialty chemicals and liquid fuels.

This biomass conversion technology is also referred to as "Dry Distillation" and was widely used during World War II as a source of acetic acid, acetone, and wood alcohol. Dry distillation is a process whereby the molecular structure making up the biomass is shattered in an oxygen reduced environment. Three products are produced – liquid (distillate), charcoal (char) and gas. The relative proportions of each product depends on process conditions. For example slow heating of biomass produces more charcoal and less liquid. Higher temperatures produce more gas.

The most advanced plants use a high density, hot, steel shot as a heat carrier to rapidly transfer energy to the incoming biomass. The reaction is virtually instantaneous and hot vapours are quickly removed from the reactor and condensed. The primary target product is the liquid condensed from the hot vapours. The process is somewhat similar to evaporating water and then cooling and condensing the vapour, hence the term, "dry distillation". The difference between water and biomass distillation is that the molecular structure of the biomass is permanently altered.