Quicknote bioenergy technology
An innovative power generation technology combining different renewable energy systems has been
unveiled
in France, by Electricité de Marseille.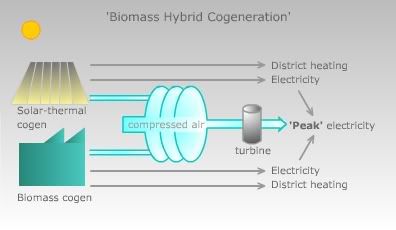 The system consists of two separate co-generation plants -- solar-thermal and biomass -- coupled to each other via so-called CAES technology (
Compressed Air Energy Storage
).
The solar-thermal plant generates electricity and hot water that can be used for district heating. Coupled to it, an electric system pumps air into carbon-fibre chambers, where it is compressed to 120 bar. Part of the hot water stream from the solar-thermal plant then further compresses the air to 600bar.
Similarly, the biomass co-generation plant delivers electricity and hot water for district heating, part of which is siphoned off to the air chambers. (Biomass-ash is a byproduct that is sold as organic fertilizer).
Electricité de Marseille (EMD) says that the system increases the efficiency of the air compressor by 40%. When peak power is demanded, the air is released through a turbine, and delivers enough electricity to satisfy that peak, with a very fast response time (in order to be allowed to connect to the main grid, local authorities in France demand response times of under 14 minutes; EDM's system reacts to peaks in under 5 minutes).
EMD's 120MW pilot plant consists of the following configuration: solar-thermal panels with a surface of 10,000m², carbon-fibre spheres each stocking 4850m³ of compressed air at 600bar which can deliver 40MW at all times, and an 80MW biomass co-gen plant using locally produced feedstocks (23,000 tons of rapeseed oil, 18,000 tons of wood waste and 15,000 tons of wheat straw).
On a yearly basis, the system avoids 48,000 tons of carbon dioxide (CO2), 64 tons of nitrogen oxides (NOx), and 62 tons of sulfur dioxides (SOx).
Dubbed "hybrid biomass co-generation", the plant combines the best of two technologies that were developed and are used extensively in respectively in Denmark (biomass co-generation) and Spain (solar-thermal co-gen). The advantages of the hybrid plant are its high efficiency and the fact that it diversifies the primary energy source (both solar and biomass), which allows for synergies between the two streams of energy, which are both bound by seasonal factors. The CAES technology is continuously on stand by in case peaks in electricity demand need to be satisfied.
EDM sells the system as one integrated package, and it could be an excellent concept for the developing world, where both solar and biomass energy are abundantly available. [Entry ends here].
biomass :: bioenergy :: energy :: sustainability :: solar-thermal :: co-generation :: compressed air :: hybrid ::