Chinese and Indian firms are increasingly doing business in Sub-Saharan Africa, and
their interest in the continent
extends well beyond a hunt for natural resources, a new World Bank study says. With the increasing economic ties come cultural and social influence.
Exports from Africa to Asia tripled in the last five years, making Asia Africa's third largest trading partner (27 percent) after the European Union (32 percent) and the United States (29 percent), according to
Africa's Silk Road: China and India's New Economic Frontier
.
Indian and Chinese foreign direct investment also grew, with China's amounting to $US1.18 billion by mid-2006, notes the study. Africa's Silk Road offers original firm-level data on the African continent of Chinese and Indian firms operating there, says the study's author, Bank Economic Adviser Harry Broadman. Broadman surveyed 450 Chinese and Indian companies operating in four African countries-South Africa, Tanzania, Ghana, and Senegal—and developed first-time business case studies in the field of 16 other Chinese and Indian firms in Africa.
The new data suggest Asian firms are beginning to diversify beyond oil and natural resources into a broad array of industries — a trend that could lead to more sophisticated products being produced in Africa and help Africa more fully participate in world commerce, Broadman says.
"To be sure, if you take a snapshot of today, the overwhelming bulk of Africa's exports to Asia is natural resources," says Broadman. "But what's new is there is far more than oil that is being invested in-and this is an important opportunity for Africa's growth and reduction of poverty because Africa's trade for many years has been concentrated in primary commodities and natural resources."
Released on the eve of the
International Monetary Fund-World Bank Annual Meetings in Singapore
, the study comes as world leaders gather to address a host of pressing development issues, many affecting Africa and its 300 million poor.
It also comes at a time when many are hailing progress in Asia that has lifted some 400 million out of extreme poverty in the last 25 years. Many wonder if the same "miracle" can occur in Sub-Saharan Africa and Latin America.
While growing Asian trade and investment is cause for optimism, Broadman cautions that there are major asymmetries in the economic relations between the two regions. China and India's comparatively high tariffs on Africa's leading—and highest value—exports prevent Africa from fully tapping into these markets. Africa's exports account for only 1.6 percent of what Asia receives from the rest of the world.
South-South Trade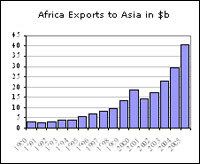 "Skyrocketing" Asian trade and investment in Africa represents the beginning of a change in trade patterns, Broadman says. Today most trade is still North-South, between Africa and developed nations in Europe, Japan, or North America.
Africa's exports to Asia grew at a 20 percent annual rate in the last five years, and has accelerated to 30 percent since 2003.
"But what's going on in China, India, and Africa is part of the broader trend in the world of rapidly growing South-South investment and trade-trade among developing countries," says Broadman. Trade with Asia is producing goods affordable to Africans, Indians, and Chinese, that are either being sold in Africa or exported to China, India or a third country:
ethanol :: biodiesel :: energy :: sustainability :: trade :: South-South :: India :: China :: Africa ::

At the same time, more and more Chinese and Indian firms are seeking to manufacture and export sophisticated components, such as those produced by the South African auto parts industry, to the global market.

"This is allowing Africa for the first time to enter into this network of more sophisticated third-country global exports," Broadman says.

But the study indicates that the conventional remedy of reduced trade barriers will not be enough. More important are "behind-the-border" reforms to encourage competition, strengthen market institutions and improve governance in African nations, and "between-the-border" reforms in both regions, to reduce international transactions costs.

"Part of what the Africans need to do to attract China is reduce the cost of doing business," says John Page, Chief Economist of the Bank's Africa region.

Some countries are already moving in that direction, according to the recently released World Bank Group's 2007 Doing Business survey, which found that the business climate in several African countries improved in 2005 and that Sub-Saharan Africa was the third best reforming region, after Eastern Europe and Central Asia, and Organization for Economic Cooperation and Development (OECD) (high income) countries.

About a third of Africa's population lives in countries where population growth outstrips economic growth and where the economy is actually regressing, Page says.

But he says prospects are good in about 14 countries that are home to 65 percent of Africans. About 30 percent live in natural resource exporting countries, and another 35 percent live in countries that have been growing at an average rate of 5 percent a year for the last 10 years.

Many countries could greatly benefit from as yet untapped South-South trade opportunities, such as tourism aimed at China, Eastern Europe, Latin America, and the former Soviet Union, says Broadman.

"The tourism industry in Africa is underdeveloped. It's just a huge market waiting to happen," he says.

But what is needed is something Africa lacks: infrastructure—roads, airports, transit systems, and telecommunications, he adds.

It's a deficiency keenly felt by Africa's trading partners. China, for one, is looking for opportunities to contribute to the Bank's work in Africa, including infrastructure projects, says Page.

And the Bank may partner with China and India, particularly on agricultural projects, to tap into their specialized knowledge, Page says.

In fact, knowledge may end up being India's and China's greatest gift to Africa, he says.

"The knowledge that can be conveyed between Asia and Africa may turn out to be as important or more important than the trade and investment flows themselves," says Page.

Indeed, as Broadman notes, "African-Asian trade and investment constitute a very small part of the solution to the challenges Africa faces, such as lack of infrastructure and not enough highly skilled workers. Overcoming these barriers to economic growth and development may well take decades to overcome."

More information:
Workld Bank: Africa Emerges as China and India's New Economic Frontier -- Africa-Asia trade triples in five years - sept. 16, 2006.