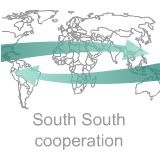 The day after 9/11 remembrance ceremonies were held across the world, the global South will be holding two historic meetings over the coming days, that are a sign of changing geopolitics and power relations in the world.
The 14th
Non-Aligned Movement Summit
(
official website
) is being held in Havana, Cuba, with a highpoint over the weekend when 50 heads of states meet. The historic NAM - which was formed at the Bandung Conference of 1955 as a neutral block of nations that took no side during the Cold War - has been an important engine for deepening south-south cooperation and multilateral alliances on the political front. The organisation died after the collapse of the Soviet Union and after the end of the Cold War, but has since been revived. Since 9/11, more and more non-Western countries see South South relations gaining in importance and the divide between the North and the South is getting bigger. The NAM counts 116 countries from the (rapidly developing) global south and will be addressing the world's most pressing problems, amongst which the fight against terrorism, nuclear proliferation and energy security.
Tomorrow (Wednesday September 13) Brasilia is host to the first
"India-Brazil-South Africa Summit"
(IBSA), which unites three of the most rapidly growing economies, that have been creating ever narrower ties on the front of economic and scientific cooperation, trade and cultural exchanges. The Summit is expected to yield concrete trilateral agreements on transport, agriculture, energy, trade facilitation and information and communication technology.
At both Summits, energy security, biofuels development and energy cooperation are high on the agenda. India for example already
announced
that it will sign a formal agreement with Brazil on acquiring vast tracts of sugar cane land to enhance energy security. South Africa and Brazil are expected to sign a deal on technical biofuel cooperation. That is why we will obviously follow the debates at these Summits and report about them here.
For now let us present some resources:
India-Brazil-South Africa Summit
14th Non-Aligned Movement Summit
Check back often for updates about news on biofuels, energy cooperation and energy security as it comes from these two historic Summits.
biomass :: bioenergy :: biofuels :: non-aligned movement :: IBSA :: developing world :: multilateralism :: energy :: south-south ::