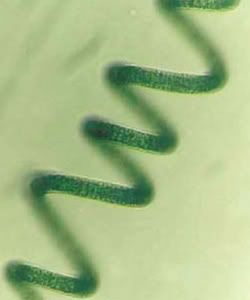 There are 10 million biogas plants in China today. There are
4 million biogas plants in India
. An
oil palm plantation yields 400 cubic metres of 'waste' biogas
per hectare. In Pakistan, there are
1 million cars that operate on CNG and compressed biogas alike
. In Sweden, the world's first
biogas train
is carrying passengers every day. In Europe, biogas is being fed to the main natural gas grid (
here
and
here
). In Switzerland and
Germany
, the first biogas stations for cars have been opened.
Austria plans to have 100,000 biogas cars
on the road by 2013. To streamline the booming interest, a
Europe-wide biogas helpdesk
has been established. Volvo has a luxury
bi-fuel car
that operates on biogas or CNG or gasoline.
Obviously, the green gas obtained from the anaerobic digestion of agricultural, industrial or household biomass waste is rapidly becoming an alternative to liquid biofuels, because its feedstocks are more diverse, it is slightly more efficient and cost-effective to produce, and just as renewable and clean as biodiesel or ethanol. Especially in the developing world, biogas could become the main competitor of liquid (bio)fuels, because it is very easy to produce, and does not require large facilities to take scale-advantages (contrary to biodiesel and ethanol production). Biogas forms the ideal energy carrier on which to build a decentralized energy infrastructure for vehicles.
A future scenario looks as follows: decentralised and localised biogas nodes expand and form regional networks, eventually getting interconnected with the main natural gas grid. The last step is crucial, because the bi-fuel strategy diminishes supply disruption and price volatility risks.
It is in this last step, however, that a problem emerges. In order for biogas to be mixed with natural gas, it has to be extremely pure. If the procuder wants to achieve NG pipeline quality biogas, he must remove water (H2O), hydrogen sulfide (H2S) and particulates. Carbon dioxide must get scrubbed out as well.
It is on this front that leading biogas firm
Schmack Biogas AG
has developed a new process to purify biogas, using micro-algae. The process is descriptively called 'Effizienzsteigerung der Biogasnutzung durch Solarenergie' (Efficiency increase of biogas use through solar energy') and points to the photosynthetic component of the algae who act as an energy enhancing element. The process is said to be both economic and sustainable, and consists of feeding raw biogas to algae who scrub out the CO2 and other impurities during their photosynthetic activity and growth. CO2 is the main pollutant of biogas and the more it gets removed, the more methane-rich and the higher its energy content becomes. The algae do the work in a highly efficient manner and are recycled as a biomass feedstock for biogas afterwards. The algae scrub the gas in such a manner that it attains the purity levels needed for it to be mixed into the natural gas grid.
Schmack Biogas carried out three successful tests using three different algae species in photobioreactors and is now creating full-scale pilot plants. As with all algae systems, photobioreactors are too expensive to be used on a grand scale, which is why Schmack Biogas is building open pond systems. Several different species will be tested again and are supposed to survive a cycle of two years in the open ponds. The question now is whether the algae cultures can be maintained in a stable condition and do not get distorted by the many potential threats from outside which they face in such ponds.
The project is supported by Germany's agency for renewable energies (Fachagentur Nachwachsende Rohstoffe) and lasts until march 2008.
More information:
biomass :: bioenergy :: biofuels :: energy :: sustainability :: natural gas :: methane :: biogas :: algae ::