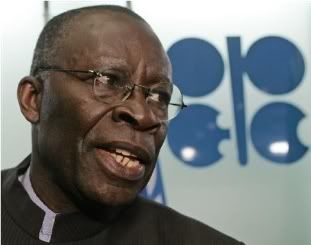 Earlier we were shocked to learn that an OPEC researcher went so far as to
'fear' for the organisa- tion's long- term future
now that biofuels are being taken seriously. And today, believe it or not, OPEC's
very own president
discussed
Brazil's booming ethanol industry with the chief executive of Brazil's state-owned petroleum company. He will visit Brazilian factories that turn sugar cane into the fuel.
Edmund Daukoru, OPEC's president and Nigeria's oil minister, met with Sergio Gabrielli of Petrobras and the two discussed alternative energy and liquefied natural gas - which Brazil is interested in importing to reduce its dependance on gas from neighboring Bolivia amid demands by the Andean nation for higher prices.
Ironically, Daukoro heads a committee charged with pushing forward plans to use and produce ethanol in Nigeria (about which we reported earlier:
here
and
here
). Meanwhile, Brazil plans to export ethanol to Nigeria while helping the nation build its own ethanol industry. Daukoro is also scheduled to visit key ethanol production facilities in Brazil's Sao Paulo state, said Petroleo Brasileiro SA.
Brazil is a world leader in production and use of ethanol. Seven out of every 10 new cars sold in Brazil are "flex fuel" vehicles that can run on gasoline, ethanol or any combination of the two. Ethanol is available at virtually every gas station in Latin America's largest country.
So what to make of this strange event? Is OPEC as an organisation beginning to open its eyes to our green future? It is not unthinkable that petro-dollars will soon start to flow into green fuels and become 'bio-dollars'. Brown sheikhs becoming green sheikhs.... After all, oil producers are making record profits on high oil prices. And they have to invest this capital into something. Maybe they are beginning to think that biofuels are not that bad an idea after all, certainly not if 'peak oil' were to be upon us already. And if there is one organisation that knows more than any other whether 'peak oil' is here, then it sure is OPEC...
On the other hand, it might just as well the ambiguous position of the current OPEC president which has led to this strange event. After all, Mr Daukoro has to lead an organisation of fossil oil producers with one hand, while heading the energy ministry of a country that is investing massively in biofuels, with the other. Not an easy task. Anyhow, Mr Daukoro's visit to Brazil is clearly a recognition of that country's successful ethanol program - a recognition coming from the ultimate competitor.
[Entry ends here].
ethanol :: biodiesel :: bioenergy :: biofuels :: energy :: sustainability :: Nigeria :: Brazil :: OPEC ::