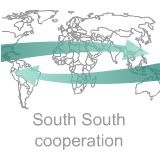 China is moving extremely swifly on the African continent, taking risks that European or North American investors no longer dare to take. As we
reported earlier
, it is investing heavily in the continent's base sectors: energy, mining, agriculture and infrastructure. In an extensive technology and knowledge transfer program, aimed at strengthening its ties with Africa, China is even sending an army of
agricultural experts
to help the poorest countries on the continent to increase their food security. And even though
China has just launched an ambitious biofuels program of its own
, it is also beginning to recognize
Africa's large potential for the production of biofuels
, in which it clearly wants to invest. China's quest for energy resources has become a global one, and Africa's potential is becoming one of strategic importance.
In this context, Nigeria's central state of Niger and the Chinese government
signed
a memorandum of understanding (MOU) for the establishment of a first ethanol plant in the state, with cassava as a feedstock. At the signing ceremony held in the state capital Minna, Secretary to the Niger State Government Adams Erena said the project "will gulp 11.6 billion naira" (about €60 million/US$ 90 million). He said a Chinese company would serve as a consultant to the project, adding that the company was expected to source 85 percent of the project investment through a soft loan from the Chinese government on 3 percent interest rate.
He explained that the balance of 15 percent would be sourced by the state government from local banks. The state government, he added, had already released 30 million naira (€160,000/US$232,600) to local cassava farmers to facilitate mass production of the commodity in the state. When completed, he said, the project would have the capacity of converting 150,000 tons of cassava into fuel energy.
Importantly, he added that the biofuel would be sold at cheaper rate for both local consumption and exports as ethanol would be cheaper than petroleum products. Wang Qingxin, managing director of the Chinese company, assured his Nigerian partner that the project would be completed within two years. He said the signing of the agreement "marked the beginning of more economic relationship between the Chinese and Nigerian governments, noting that the project would benefit the peoples of both China and Nigeria."
The bilateral agreement is part of Nigeria's announcement that it would be partnering with experts from abroad to kickstart its
biofuels program
, in which cassava and sugar cane feature as the crops with the highest potential. The news of the investment in Niger State comes on top of the large biofuels project in Jigawa State, which is projected to bring 1 million jobs to local farmers (see
earlier post
).
[Entry ends here].
ethanol :: biodiesel :: biomass :: bioenergy :: biofuels :: energy :: sustainability :: Africa :: China