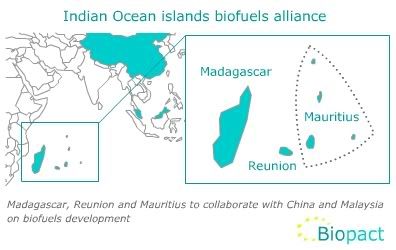 Bioenergy is clearly becoming a field of play for the world's superpowers who create bilateral production and trade agreements (such as
France and Brazil
,
China and Nigeria
or
Japan and Brazil
), whereas regional biofuel cooperation agreements are being launched more and more as well (such as
Africa's 'Green OPEC'
or Europe's common policies or its
biomass trading network
). Different cooperation paradigms and strategies get intertwined (from purely economic deals to long-term geopolitical strategies and from 'South-South' to 'North-South-North' alliances).
Now a group of island states in the Indian Ocean are allying with China and Malaysia to create a regional biofuel production network. The developing island states of Mauritius (which already has a
biofuel program
in place), Madagascar (where multinationals are investing in jatropha plantations) and Réunion - all former french colonies - are partnering up in what they call a 'win-win' agreement, to produce biofuels with which to share the burden of high oil prices that have such a
strong impact on island states
. Mauritius, Malaysia and China deliver the know-how and technical expertise, whereas Madagascar and Réunion offer land for plantations.
The Malgachi minister of agriculture, Randriarimanana Edmond Harison and Charles Li, president of the Chinese Chamber of Commerce in Mauritius (CCCM), stated that the regional biofuels network "is the only viable way to tackle high oil prices".
The idea was launched during a business forum organised by the CCCM, and revolved around a two-axe strategy: Malaysia, with its expertise in palm oil production, would be the central node in the 'biodiesel axis', whereas China would focus on technology transfers concerning the 'ethanol axis':
ethanol :: biodiesel :: biobutanol :: biomass :: bioenergy :: biofuels :: energy :: sustainability :: Africa ::

Madagascar, the largest of the islands, is currently undergoing a phase of transforming its economic climate which was long closed off to foreign investments, much to the dismay of its neighboring islands. The new Malagachi strategy now aims at regional cooperation in the agricultural sector, opening up its vast natural resource base, with biofuels as the prime sector. Minister Randriarimanana Edmond Harison told the business forum that the large island is currently making the finishing touches to new land laws and investment protection laws. "The effort is focused on making foreign investments sustainable and attractive." The Malagachi government wants to become "the green and the grain belt" for the Indian ocean, and its regional biofuels supplier.

At the same time, Madagascar knows that it hosts one of the world's most unique and biodiverse eco-systems, which it wants to protect at all costs. It will be an interesting exercise to see how the island state will play out the demand for conservation against the demand for biofuels.

So after Africa's "Green OPEC", another region is starting to forge a regional biofuel production alliance. This network involves island states, who suffer heavily under high oil prices, which gives the exercise an interesting perspective. This story is certainly to be continued.

More information:

L'Express de Madagascar: Du biocarburant produit avec Maurice - 14/08/2006