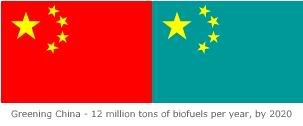 According to an USDA attache report released yesterday, China is setting itself more and more ambitious biofuels targets in order to reduce its dependence on imported oil. Currently the awakening giant produces around 920,000 tonnes of ethanol per year, making it the world's third largest producer. China plans to boost this amount to nearly 4 million tonnes by 2010, the report says.
But that is just ethanol, a fuel on which the Chinese government has been focusing for three decades and for which it created standards, laws and economic strategies. Diesel demand in China is twice that of gasoline however, but the industry and policy framework for biodiesel is marginally developed. This will now change with China's new biofuels policy that will be incorporated in the 2006-2010 five-year economic plan. The country's long-term target is to produce 12 million tonnes of liquid biofuels per year, by 2020.
China's key objectives
China's stated objectives for biofuel development are (1) improving of the welfare of Chinese rural citizens in China; (2) strengthening China's energy security and reducing its oil dependence; (3) the mitigation of emissions noxious to the environment. According to the report, the subtext here is:
(1) farm support prices, (2) national security, and (3) membership and recognition in the international community.
There are great regional differences in China's economic fabric, and the launch of a biofuels industry is aimed at correcting these imbalances:
While Chinese coastal areas boom, growth in inland areas proceeds at a much slower pace. Biofuel production is one of a series of programs to mitigate rural poverty. With most plants located in the northeast, currently ethanol provides an outlet for 10 percent of corn production of northeastern provinces' (Jilin, Liaoning, Heilongjian, Hebei, and Henan) corn production, particularly of low quality and older stocks, and could add crops for biofuel production on otherwise marginal land. With additional plants, Northwestern provinces (Xinjiang, Tibet, Qinghai, Inner Mongolia, and Gansu) could increase their agricultural market by growing sorghum and Jatropha. With additional plants in southern China, the sugar and cassava crops could be expanded to meet increased ethanol production objectives.

In 1975 when China became a net importer of oil, energy security became a concern. Now China depends on coal for 70% of its energy, with most of the remainder being fuel oil used for transportation. Consumption in this sector is growing rapidly, but so are the biofuels ambitions:
Presently biofuels are approximately one million metric tons (MT). China's policy objectives are produce 12 million MT of biofuels, including ethanol and biodiesel, annually by 2020, pushing it up to 15 percent of the nation's transportation fuel use.
Taking leadership in the biofuel sector also fits into China's aspirations to be a leader in the global arena as it uses biofuel to reduce pollution and conserve its environmental assets, consistent with the Kyoto Protocol objectives.

This report comes as
China's net import of crude oil shot up 17.6 percent
year on year in first half of this year, caused by record-economic growth. Will biofuels put a dent in this dependence? Let's have a closer look:
ethanol :: biodiesel :: biobutanol :: biomass :: bioenergy :: biofuels :: energy :: sustainability :: China ::




Vehicle and petroleum markets boom



Higher disposable incomes make private vehicle ownership a possibility. Over the past two decades, China's vehicle market has been the fastest growing in the world.
As disposable income increases, more and more people in China are purchasing privately owned vehicles. According to data from the national Bureau of Statistics of China, the number of automobiles owned nationwide reached 26.94 million in 2004 (passenger cars: 17.36 million; trucks: 8.93 million; others: 0.65 million). The average growth rate between 1986 and 2004 was 11.8 percent. In Beijing alone, authorities report 1,000 new cars are added each day to the city's roads.
Mirroring Brazil's example (where 80 percent of passenger vehicles are flex-fuel), the capital city of Henan, Nanyang, is set to pilot a flex-fuel transportation program in China. The city will experiment with 100 flex-fuel vehicles and 3-5 flex-fuel public transportation buses from the EU. Future research and development will be based on this first pilot program.

China's consumption of crude oil totaled 323 million tons in 2005, including net crude-oil imports of 119 million tons. Consistent with new car use, the annual average growth rate for gasoline and diesel during the period from 1990 to 2004 reached 6.8 percent and 10.1 percent respectively. One of the significant reasons for the high diesel average growth rate is the widespread use of public and private trucks. The growth of farming trucks and mechanized farm equipment has contributed to the diesel market's remarkable growth.
Increasing bio-energy production and consumption will help ease the country's oil shortage.
There is currently a gasoline import ban which was established 1999. Gasoline consumption, principally for passenger vehicles, in 2004, was 50.35 million MT with an annual growth rate of 17.4 percent while gasoline exports were 5.75 million MT, 28.3 percent lower than the previous year. This trend is forecast to continue as high domestic gasoline demand slowly eliminated exports.




New feedstocks for ethanol





Cassava


The Guangxi Zhuang Autonomous Region in southern China plans to build a fuel ethanol
production facility capable of producing one million MT of fuel ethanol by 2010. The plant is a joint venture between China Resources Alcohol Co., a subsidiary of the China National Cereals, Oils and Feedstuffs Corp. (COFCO), and SINOPEC. (COFCO holds 85 percent of shares, while SINOPEC holds the remainder.) The plant is scheduled to begin operations in October of 2007 at a production capacity of 110,000 MT per year. The initial output will supply Guangxi. When at maximum capacity, the plant hopes to provide fuel ethanol to all of southern China (Yunan, Guizhou, Guangdong, Hong Kong, and Macao), principally using cassava.

Total cassava production in China at present is estimated at 13.3 million MT. Guangxi already produces over 60 percent of China's total cassava output. Cassava alone, some scholars predict, could supply as much as 4 million MT of fuel ethanol in China. Production is estimated to expand greatly in the next few years: Guangxi expects to expand its acreage planted for cassava from 260,000 ha to over 660,000 ha. China could grow cassava on 2.471 million acres of barren land, adding 21 million MT to the crop. Technological advances alone could help raise yields by 7 million MT.
Thailand, the world's top cassava producer, already converts some of the vegetable into fuel ethanol.

Cassava imports into China are surging. The black market also explains the surge in China's imports of tapioca chips from Thailand. Henan's Tian Guan Group has entered into a contract with the government of Laos, leasing 15 square km of land for the production of cassava-based ethanol. In this manner the producers can use cassava grown in Laos, and simply import the finished fuel ethanol to China.

Sorghum
Sweet sorghum, a native root plant from Africa, is a promising alternative for fuel ethanol production. Sorghum can grow in areas of drought. Once scientists finish research for sorghum-based ethanol production, production could expand significantly.



Sugar grass


Plants such as sugar grass, which is suitable for salina (salt marsh) and other low-quality land in 18 provincial areas north of the Yellow River and Huaihe River basins, are also promising for biofuel production. Such lands total 33.34 million hectares, and some researchers suggest that one-fifth of them could be enough to produce 20 million MT of ethanol.




Biodiesel market demand may exceed ethanol



There is a rising demand for biodiesel since the diesel market is twice that of the gasoline market. The principal difficulty is the lack of eligible sources for biodiesel production. China is a net importer in all the major edible vegetable oils, the largest importer in the world.
Coupled with the lack of fatty organic matter, the lack of land upon which new crops could grow exacerbates the difficulty of biodiesel production. As a result, China's ethanol production growth exceeds biodiesel's. In May of 2006, China took some preliminary steps towards biodiesel promotion by setting up a special development fund to encourage research, development, and production. Biodiesel's future in China relies on three key factors:
1. Government support and NDRC defining a clear plan for expansion, not only for biodiesel production, but also for the harvesting of NGB crops.
2. Research and development to solidify technologies for production
3. Defining and obtaining key organic sources for production. Potentials inputs include rapeseed, Jatropha nuts, switchgrass, sunflower seeds, Chinese pistachio, peanuts, sesame seeds, Barbados nuts, Fufang vines, Yousha bean, and Chinese dogwood nuts.

China's present production is very limited, though the potential is huge. Biodiesel is in the very early phases of testing and development. The Wuhan Energy Oil Material and Biodiesel Engineering Technology Research Center and the Hubei Energy Oil Material and Biodiesel Engineering Technology Research Center have been in the testing phase and will begin a trial production of 2,000 MT of biodiesel each year. Wuhan Airui Biodiesel Co. began producing 100,000 MT per year. Biodiesel production from Jatropha, Chinese Pistachio and rapeseed has been limited and is still in the testing phase. China plans to produce 2 million MT of biodiesel by 2010. Sichuan Gushan Grease Chemical Engineering Company is the only company to use rapeseed oil to produce biodiesel: its capacity is 10,000 tons per year.

Currently, about 80,000 tons of biodiesel are produced from waste cooking oil. Fujian Gushan New Energy Comp Ltd is one of the larger biodiesel producers in China: it has a capacity of around 40,000 tons/year. The company collects waste oil from Beijing and other big cities. Last year China purchased nearly 3 million tons or 75 percent of its total palm oil imports from Malaysia. Various Chinese firms have approached the Malaysian External Trade Development Corporation to purchase palm oil waste for biodiesel production. In search of long-term contracts, they were willing to pay $200-250 per ton. Initial demand from the various firms totalled 200,000 to 250,000 tons per year. The exports could fetch up to $62.5 million.




Good news for the Biopact: China will have to import a massive amount biodiesel feedstock



One of the Biopact's aims is to create a biofuels exchange relationship between Africa and Europe. The basic goals: (1) reducing poverty in Africa and (2) strengthening Europe's energy security. Of the two, the first one is most important to us. That is we think Europe should invest in Africa's bioenergy potential not only to supply itself, but to create other export markets for African biofuels. China obviously is such a market.

Biodiesel feedstock supply is hard to come by in China. Let us have a look at the current situation, per feedstock:



Rapeseed


Rapeseed is a promising oilseed for biodiesel and is a potential source of biodiesel production for China. During the winter season, there are currently over 29 million hectares left fallow in the central region of China (in the regions surrounding the Yangtze River, the Yellow River, and the Huai River). If rapeseed were planted in the off-season, and established technology produces 0.64 tons of biodiesel per hectare planted, the 29 million ha could be harvested and used for the production of over 18.5 million MT of biodiesel.



Animal Fats/Oils


Biodiesel from animal fats and oils, while a great potential for the future, is not being explored at present. Cattle, poultry, swine, and sheep may be sources of oils and fats explored for future biodiesel production.



Other possible sources


China is also exploring Jatropha and Chinese pistachios, other oil plants, for potential biodiesel sources. Industry groups have recently invested in Jatropha stands in east India. The trees take five years to grow: the investment should turn itself around in a period of ten years time. Projects to harvest Jatropha seeds are being considered in Guizhou and Sichuan provinces. Technological advances are necessary for Jatropha-based biodiesel production, however.

None of these sources have been developed as biodiesel feedstocks yet. And in all likeliness, current demand for vegetable oils for food purposes will grow at 2% per annum, forcing China to source biodiesel feedstocks from elsewhere, which it is already doing (most notably palm oil from Indonesia and Malaysia).




More info:


The full report (August 11 2006) "China, Bio-Fuels Annual" can be found here [*pdf] or manually at the USDA's Foreign Agricultural Service website.
Attache reports are not official USDA data but prospects and projections made by individual country offices.

Unofficial translations of the NDRC's most recent publication on biofuels (its 2004 "Law Concerning Testing for the Extensive Use of Ethanol Blended Gasoline for Automobiles", the "Regulations Concerning the Conduct of Testing for the Extensive Use of Ethanol Blended Gasoline for Automobiles", and the 2006 "Interim Procedures for the Management of the Special Development Fund for Renewable Energy Resources") are available at USDAChina. These circulars recount with greater detail the pilot programs and special developments of China's nascent biofuels industry.