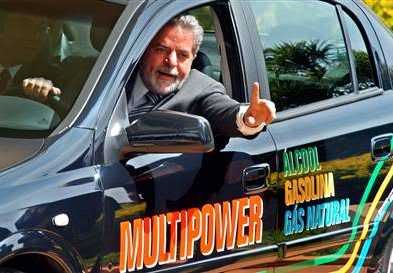 Flex fuel cars: first developed in Brazil, ready to be used in the third world?
Anyone who has ever visited an African port like Abidjan, Port Harcourt, Libreville or Maputo, remembers the huge ships full of second-hand cars waiting at the docks. The old Mercedeses, Peugeots, Volkswagens and Renaults, often dirty diesels, come from Europe and they're sold on a vibrant market where local creativity and ingenuity turn them into working vehicles that some African families can afford. (For an anthropological study on this fascinating market, see "
Cotonou's klondike : a sociological analysis of entrepreneurship in the Euro-West African second-hand car trade
" [*.pdf], by economic anthropologist Jan Joost Beuving). In many developing countries, the used-car market is many times bigger than the market for new cars.
But how about introducing top-notch high-tech green hybrids and flex-fuel cars in the developing world? Green cars cost more, so why try to sell them in emerging nations? The answer is simple: because the market is huge, and so are the consequences of inaction. Moreover, many of the developing nations in question have a competitive advantage, envied by the industrialized countries: they are potential biofuel superpowers that can produce enough liquid fuels to power their nations. In fact, some of these countries have the potential to
"leapfrog"
and become entirely energy independent. This competitive advantage (and the considerable savings derived from it) can be coupled to introducing green cars. Leapfrogging not only works when it comes to energy, it also works in the field of sustainability.
While many consumers, investors, scientists, and environmental activists have focused on the importance of building hybrid cars for the European and American market, it is in the emerging markets that the need and the potential for hybrids, flex-fuel cars and other clean air technology may be even greater. In a comprehensive article, Business Week
makes the case
:
ethanol :: biodiesel :: biobutanol :: biomass :: bioenergy :: biofuels :: energy :: sustainability :: Africa ::

Over the past decade emerging markets such as India, Latin America, and China have seen the numbers of cars on the road increase exponentially. Reports published by the Chinese National Bureau of Statistics show that in just half that time the number of private cars in the country has nearly tripled, from 6.25 million to 17 million.

According to J.D. Power and Associates, Indians bought 1.2 million cars last year, and that figure is expected to rise nearly 10% annually over the next half decade. The growing population of cars in these countries is not without a concurrent environmental impact. A 2005 European Space Agency satellite study reports that pollutants in the sky over China have doubled in the past decade.

FIRST VENTURE. Yet to hold down costs, some cars sold in these price-sensitive markets are available without basic safety features like airbags and anti-lock brakes. Given the fact that in the U.S. hybrid cars cost thousands of dollars more than their internal-combustion cousins, it is unlikely that many new car buyers in the Third World would today be able to spend the extra money for a hybrid car.

These rapidly growing markets represent lucrative opportunities for auto makers. Despite the huge gap between the cost of hybrid technology and disposable incomes, some auto companies are beginning to establish pilot hybrid sales programs. In January, Honda (HMC) began selling a hybrid version of its popular Civic in one of the world's most polluted cities, Mexico City.

That made Mexico the first Latin American country in which hybrids are available. Honda hopes to sell 450 vehicles there, a tiny number, but a start. In the first six months of 2006, Honda sold 15,755 of the same model in the U.S.

MODEST GOALS. Honda executives were not available for comment for this story, but in an e-mail exchange the company said its hybrid cars will have to come down in price before they become widely adopted in the U.S. or elsewhere. "In about three years, Honda will introduce a hybrid that is less expensive. This hybrid will be introduced on a global basis, with expected annual sales worldwide of 200,000 units," according to a company spokesperson.

Toyota (TM), meanwhile, expects to sell 3,000 of its Prius hybrid cars in China this year. But these goals remain extremely modest compared to overall sales growth. In the first six months of 2006, Toyota sold 48,156 of the same model in the U.S.

Michael Walsh, a MacArthur Fellow and independent transportation consultant based in Arlington, Va., says that even though auto makers have been introducing relatively advanced pollution-control technologies, they still can't keep pace with rapid demand growth. The high cost of cleaner technologies has meant a focus on fuel solutions by industry and government officials.

FUELED BY SUGAR. Take the case of Brazil. Billions in subsidies and almost 30 years of work are expected to pay off when Brazil attains energy independence later this year. The country is the world leader in alternative fuel technology. About 20% of its transport fuel market comes from ethanol, compared to just 1% worldwide.

Brazil's favorable climate and abundance of land make it the perfect candidate to grow the sugarcane that is used to produce ethanol. Even though gasoline gets more mileage per gallon, Brazilian ethanol is cheaper per mile. Sugarcane-based fuel is three times more efficient than the corn ethanol made in the U.S., and it's easier to grow and process.

Ethanol's success means that drivers in Brazil no longer need to bet on which fuel type will be cheaper, but instead can switch between ethanol and gasoline or a combination of the two. More than 75% of new vehicles sold in the country are such flex-fuel models. And last month, Volkswagen Brazil announced that it was halting production of gasoline-only cars, becoming the first auto manufacturer to switch to an entirely flex-fuel lineup.

MORE BETTER CARS. Development experts say China, India, and countries in Southeast Asia and Africa could all try to follow Brazil's example of sugarcane-based fuel. But because state-owned oil companies and governments in developing countries keep gas prices and taxes low, they are nowhere close to Brazil in tapping that potential.

Lee Schipper, Director of Research for EMBARQ, the World Resources Institute Center for Sustainable Transport, says Chinese and Indian efforts are resulting in dramatically reduced emissions, approaching standards of European and U.S. cars. But environmental concerns still loom. "The bad news is cities in China and India will be crawling with cars, but at least they will be good cars," he says. That is, cars with more modern carburetors, fuel-injection, and catalytic converters.

Though mid-term solutions remain works in progress, both in the U.S. and developing markets, some industry insiders say the best hopes for cutting back on gas guzzlers lie in translating the lessons learned in one region to another.

IDEAS TAKE TIME. Brent Dewar, GM's (GM) vice-president of field sales, service, and parts, has been working on alternative fuel initiatives inside the company since the late 1970s. He's become an evangelist of sorts and formed a small cabal of enthusiasts that promotes new technologies. "We form the trim tab," he says referring to the comparatively small piece of a plane's rudder that allows it to make large turns.

Dewar, who was involved in developing alternative fuel efforts in Canada as well as GM's offerings in Brazil, says "The key is slowing everybody down just a little. You have to be able to make people understand." Those who've worked with Dewar say his experiences in Brazil during the mid-'90s, when the country was bringing its ethanol strategy online, has helped influence GM's ethanol offerings in the U.S.

Like others both inside and outside of the automotive industry, Dewar admits that much progress remains to be made in both alternative fuels and hybrid technology. He adds, "In the end, it takes time to make a big idea." But, until one overarching idea catches on, gains in the developing world will likely continue to be products of individual markets and their varying constraints, both economic and technological.

Business Week: Hybrids in the Third World?