Belgium and the Netherlands are Europe's main logistical hubs. Combined, the seaports of Antwerp and Rotterdam form the world's largest cargo-hub, moving thousands of containers and tons of bulk goods each day, ready to be distributed all over Europe or to be (re-)exported to anywhere in the world. Not surprisingly, both countries are preparing for the bioenergy revolution and are busy building bioterminals to import and export finished biofuels, raw biomass feedstocks and byproducts. We have a look at the infrastructure being built, at the biomass quantities that are currently involved, at where the biofuels come from, and at where they end up. In-depth research by the
IEA Bioenergy Task 40
study-group has indicated that global, sustainable trade in bioenergy is feasible. The Benelux countries already give us a sneak preview of what this future will look like...
Bioterminals
Both the Dutch and Belgian government set ambitious goals for the use of biofuels in the near future. It is anticipated that due to the limited arable crop area available in the Benelux countries, they will largely depend on imports in order to fulfill these ambitions. These imports could either be finished biofuels or feedstocks to produce biofuels domestically. It is generally expected that a major part of these agricultural bulk materials will be imported through the Dutch and Belgian seaports and will partly be obtained from suppliers outside the EU.
The Rotterdam port has already built a bio-terminal with dedicated infrastructure for the import of biofuels, including bio-ethanol, palm derivatives and wood. Biopetrol Industries, a Swiss biodiesel producer and distributor, and Dutch-based
Vopak
, the world's largest independent tank terminal operator specialized in the storage and handling of liquid and gaseous chemical and oil products,
agreed
to build Netherlands' biggest biodiesel plant at the Rotterdam port. The plant has a production capacity of 400,000 tons of biodiesel per year and 60,000 tonnes of pharmaceutical glycerine.
In the words of Klaus Henschel, COO of Biopetrol, the Benelux and its ports offer clear competitive advantages:
First, we will be present in Europe's largest refinery center and therefore close to our clients. Second, Rotterdam offers a large tank storage capacity. In addition, Rotterdam is the center of the European vegetable oil market. Due to the connections to the sea and the Rhine as well as the pipeline network our logistics costs will also be significantly lower than at any other location.



Leading Malaysian palm oil producers IOI Group and Golden Hope Plantations sealed two 10-year contracts with Dutch firm Biox to buy palm oil by-products to produce green electricity. Biox will build four power plants in the Netherlands, one of which will be constructed near IOI's new palm oil refinery at the Rotterdam port - Europe's biggest with a capacity of about 900,000 tonnes a year. Malaysian Kuok Oils & Grains is building a 300,000-ton palm oil refinery at the same port. Finally, in December 2005, the company Unimills, a subsidiary of the Malaysian company Golden Hope Plantations, signed a declaration of intent with the Austrian company Godiver for building a 100,000 ton multi-feedstock biodiesel plant, using imported rapeseed oil, palm oil and soybean oil. [Info on these Malaysian deals can be found
here
.]
Besides building a new logistical complex for the bioenergy future, the Rotterdam port also simply
imported 650,000 tons of ethanol from Brazil
[*.pdf] in 2005, the major part of which was destined for the Swedish and UK market.
Eemshaven in the North of The Netherlands is gradually becoming a bioterminal as well, with a first 66,000 ton capacity biodiesel plant owned and operated by a joint-venture between
BioValue N.V.
and Delta N.V. In the same cluster, feedstock crushers, oil presses and biomass pretreatment facilities can be found.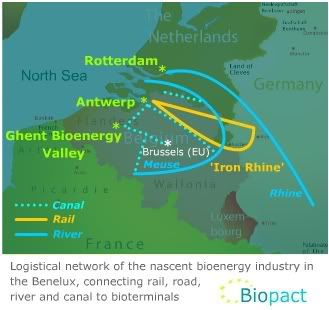 In Belgium, the bulk of biofuels will be produced in the dedicated
Ghent Bio-Energy Valley
, both a logistical hub and a bioenergy knowledge centre located in the port city of Ghent, close to the Antwerp mainport. From this location, grain intervention stocks are easily accessible as the
Euro-Silo
, a huge intervention silo, is located nearby. The Bioenergy Valley has already attracted several biodiesel plants: a 150,000 ton refinery
owned and operated by Bioro
, one with a capacity of 140,000 tons
owned and operated by Oleon
[*Dutch], and Cargill's 100,000 ton plant. More plants are on the drawing board.
In Rotterdam, ethanol production is absent, but Ghent Bioenergy Valley fills the void, with
Alco BioFuel
[*Dutch], a cooperation between the Alco Group, Euro-Silo and Aveve, which is building a 300,000 ton ethanol plant. The same company is building a
€80mio biomass power plant
[*Dutch] - for which solid biofuels will be imported - at the same cluster. Europe's ethanol marktleader Südzucker AG has plans to start with production of 85,000tons in 2007, in Wallonia. Feedstocks for these plants will probably be by-products such as molasses and potato waste (the use of these products as animal feed is anticipated to decline in the Benelux), and possibly wheat.
Besides Ghent, the port of Antwerp, one of the world's largest, is establishing itself rapidly as the leading forest products port of Europe, meaning it will become the main
bioenergy hub for bulk woody biomass imports for the production of green electricity
[*.pdf] (and later cellulosic ethanol). Furthermore, Antwerp is home to one of the world's largest petrochemical and bulk liquid logistics clusters, attracting huge interest from liquid biofuel producing countries like Brazil and Malaysia who are looking into building biodiesel and ethanol plants there.
Feedstock chains link Ghent to Antwerp via a canal and rail, and likewise Ghent to Wallonia, an inland agricultural zone where energy crops are cultivated. Both axes are in turn linked up to the Iron Rhine, a railroad connecting the Belgian bioterminals to the Ruhrgebiet, Germany's famous industrial zone.
Biomass imports: from Malaysia and Canada, West-Africa and Brazil
Due to their small arable crop area, none of the Benelux countries will be able to produce sufficient feedstock for their projected renewable energy demand. Because of this dependency on feedstock sources outside of the Benelux, the countries are already importing raw biomass, oil seeds and vegetable oil for liquid fuels and green electricity from all over the world:
ethanol :: biodiesel :: biomass :: biofuels :: feedstock :: trade :: bioterminal :: Malaysia :: Benelux ::


The following table gives an overview of the types (solid and liquid) of biofuels and their quantities that have and will be imported via the Benelux bioterminals. Notice the rapid projected year on year increase: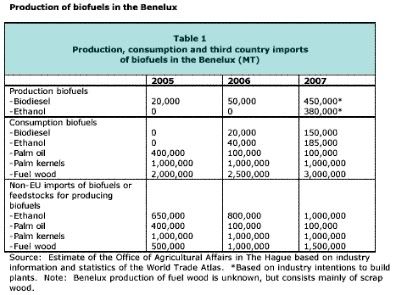 Now that a process to produce 'winterized', cold tolerant palm biodiesel [*.pdf] has been developed (with low melting and pour points suitable for the cold European climate), the production of biodiesel based on palm oil in the Benelux will increase considerably. The low melting point palmdiesel will be blended with fossil diesel in the petro-chemical refineries in Antwerp and Rotterdam and exported throughout North Western Europe, and possibly beyond. Another option is blending palm oil with soya oil to produce pure biodiesel.



Generation of green electricity


In contrast to the use of biofuels as transport fuel, their use for green electricity generation has increased considerably during the past three years. In 2005, electricity generation accounted for the utilization of about 400,000 MT of palm oil, 1,000,000 MT of palm kernels and about 2,000,000 MT of wood material in the Benelux. The production of renewable electricity from biomass has the potential to boost demand for palm oil by more than 1,000,000 tons annually. The Dutch company BIOX bv and the Belgian company Electrabel planned to build new power plants, which would use palm oil as the primary fuel. However, most of these plans have been abandoned, as the investment is judged as to risky because of potential policy changes. Domestic farmers, grain processors and crushers reportedly lobby for the use of sunflower and rapeseed oil, while Non Governmental Organizations put pressure on the Dutch government to end the subsidies on the use of palm derivatives, claiming most of
the palm products are produced by cutting rainforests. As a result, the use of palm oil is expected to decline in 2006 and Dutch production of renewable energy is expected to drop significantly.

This is in conflict with the ambitious goals of the Dutch Government for greener
electricity production. The Ministry of Economic Affairs set targets for renewable electricity of 6 percent in 2005, 9 percent in 2010, and 17 percent in 2020. In addition, the Dutch Ministry of Environment signed an agreement with electricity producers to reduce carbon dioxide emissions by 3.2 million MT between 2008 and 2012. The Dutch Government also formulated a vision to cover 30 percent of the total energy consumption by biomass energy in 2040, mainly as primary fuel for electricity production and as transportation fuels.

By Laurens Rademakers, some rights reserved - Biopact, 2006



More information:



:: Belgium's dedicated Ghent Bioenergy Valley
:: Port of Antwerp, do check out the introductory brochures on forest products, bulk liquid logistics, the 'Antwerp Chemical Cluster' and its petrochemical complex.
:: Port of Rotterdam
:: Recent event "Meet the Port of Rotterdam: Bioenergy Transportation" [*.pdf], highlighting the new business opportunities available for ports and logistics providers in the transportation of bio fuels.

:: Jakarta Post: Indonesia, Malaysia eyeing European bio-fuels market - Aug 22, 2006
:: General info on Malaysia's palm oil industry: Malaysian Palm Oil Board

:: The EU's Directorate-General for Energy and Transport is the starting point for all laws, regulations, vision and policy texts on Europe's bioenergy future. The recently presented Biomass Action Plan gives a comprehensive overview of the EU's bioenergy ambitions and targets.

As EU Members, The Netherlands and Belgium implement regulations of the European
Commission through national law. Regarding support for the production and consumption of biofuels the following regulations are important:
:: Directive 2003/30/EC [*.pdf], which set goals of 2 percent in 2005 and 5.75 percent in 2010 for the use of biofuels as transportation fuel.
:: Directive 2001/77/EC [*.pdf], which supports the use of biomass for the generation of green
electricity.
:: Directive 2003/96/EG [*;pdf], which sets the conditions for regulating taxes on biofuels for electricity generation and as transportation fuel.

American readers will find more information about EC legislation and EU-wide market information on biofuels in the dedicated section on the website of the U.S. Misssion to the EU.